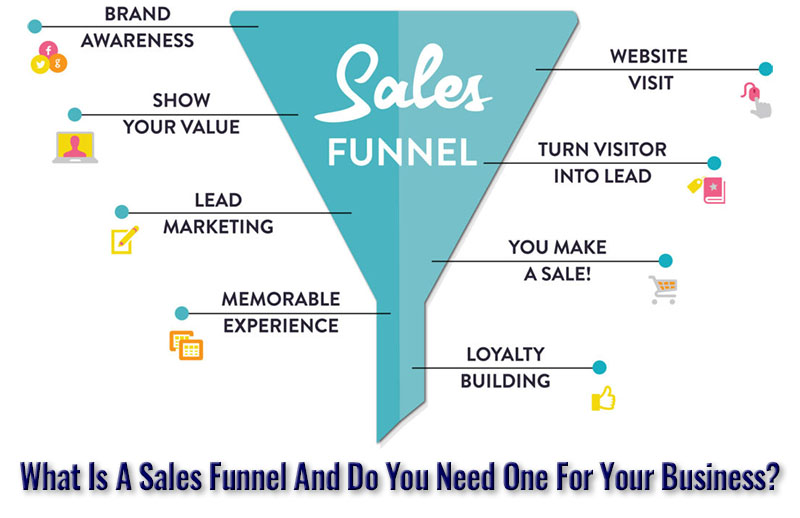 What Is A Sales Funnel?
In short, it's a way for you to earn more money from the people who visit your websites, whether you're a product creator or an affiliate marketer.
A sales funnel is essentially the process you take site visitors through, to convert them from subscribers into paying customers.
It's a way for a product creator, vendor or affiliate marketer to offer additional products to a customer or to prospective buyers and to remind those people about a front-end offer they haven't bought yet or opted into.
The start of a sales funnel can be a sales page which eventually leads to an order page where the customer's email address is collected.
Or it can start with an optin page (squeeze page) where a visitor must type in their email address to see what's behind that page.
Opt-in pages are typically used to give away a free gift such as a free report, a free ebook, a webinar, etc.
Another popular option is the free plus shipping model – what you're giving away is a free physical product (like a book) but the visitor has to pay the shipping costs (here's an example).
A sales funnel has two parts:
The back-end offers – upsells, downsells and one-time-offers – to people who buy the front end product or take up the free offer
The email component:

If there is no opt-in form at the start of the funnel, then customers who buy are added to a buyers list and are sent regular emails pushing other products in the funnel
If there is an opt-in form at the start of the funnel, then non-buyers will be sent emails persuading them to buy the front-end product or take up the free offer. And when they do, they'll be moved over to the buyers list.
If they never buy the front-end product, then they can be sent offers for other (un)related products.
The Traditional Affiliate Marketing Model
With traditional affiliate marketing, you put links to affiliate offers on your website.
This is the process: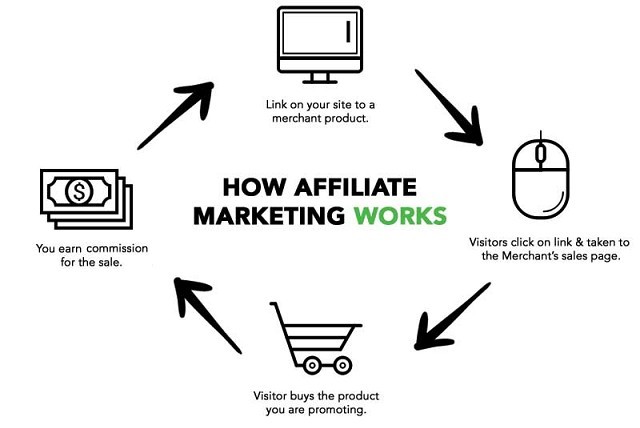 As you can see, in this model, there's no email list being built. So the email addresses of anyone who buys though your links will end up on the product creator's list. You've lost access to them at this point.
If the customer does buy, yes you get the commission. And, if you're lucky, you'll get some additional commissions if the customer buys any of the other products in the product creator's sales funnel.
However, as far as you – the affiliate marketer – is concerned, that customer is done and dusted. You can never market to them again. Because they're not on your list.
If your website gets lots of repeat traffic then, maybe, the same customer will buy a different product from your site. That's a big "if" though.
The Sales Funnel Process
This diagram shows the various sales funnel stages and how they interconnect and reinforce each other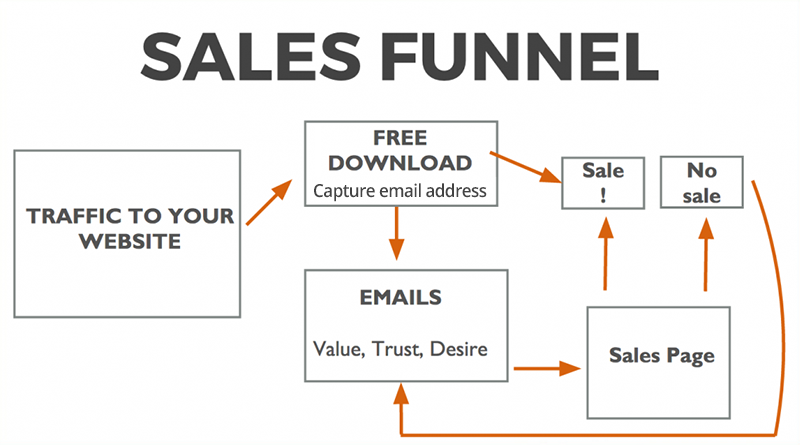 In this case, you've literally captured the lead (a "lead" is someone who's subscribed to your email list). And you can market to them repeatedly from here on out.
All the big retailers do this. How many emails have you received from Amazon, for example, since you first bought something from them?
They know your email address and build up a profile of your buying habits over time so that they can send you recommendations so that you'll buy more products from them.
That right there is the power and advantage of using a sales funnel.
A funnel doesn't have to be static. Products and services come and go. And you can always change up your funnel to add in new or replacement products and remove old outdated or defunct ones.
A Sales Funnel Analogy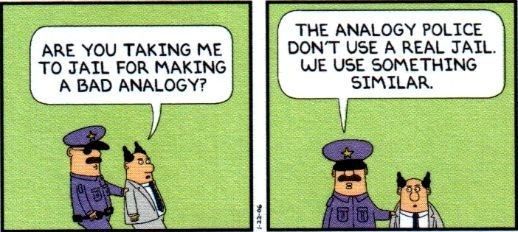 If the idea of a sales funnel is still as clear as mud, let's take a look at this analogy…
If I asked you the question: What is Starbucks' business model?
You'd probably answer that it's selling coffee.
Coffee is the product (what they sell) but it's not the business model (how they sell).
The business model is actually distribution.
Each Starbucks store is a distribution channel for coffee products.
Their "sales funnel" is getting customers to buy extra coffees, pastries, ice cream and sandwiches.
They also have a loyalty program you can join that gives you access to exclusive offers.
If Starbucks want to sell more coffee, then they can do a promotion. Maybe they'll offer a coupon or a multi-coffee deal that they send out to people in the areas around their stores.
But there's only so many people they can reach and only so many customers they can serve.
If they really want to sell a lot more coffee then they need to open a new store to reach a whole new boatload of customers.
So they need to open a new distribution channel. There are obviously huge costs involved with this.
How This Analogy Relates To Sales Funnels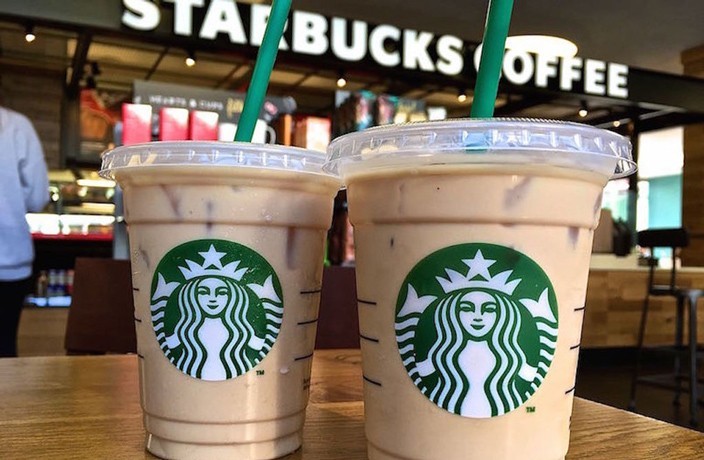 Now let's equate this with list building, email marketing and sales funnels…
The front door and store windows of a Starbucks entices the customer in. This is equivalent to an optin page or sales page enticing an online visitor to have a closer look.
Starbucks' loyalty program offers you exclusive deals if you join. This is the same as giving away a free gift to people who sign up on your opt-in page.
Once they have your contact details, they can send you those special offers and entice you to spend more money in their stores. This is exactly like email marketing where you repeatedly tell your subscribers about other products you sell or promote.
People have brand loyalty and for that reason may regularly buy coffee at Starbucks. With an email list you can also provide value to your subscribers so that they come to know, like and trust you. When that happens, they're far more likely to act on your recommendations.
If you want more subscribers, like Starbucks you can create new distribution channels. In this case, however, it doesn't cost you an arm and a leg. You simply create a new online sales funnel and direct people to that. No office rent fees, no inventory management headaches, no employee salaries to pay and so on. Spend a few hours putting your funnel together and you're already in business.
The upshot is that with a sales funnel, whatever you're promoting gets far more exposure and you're much more likely to make sales and have repeat customers.
And what business doesn't want that?
There's a far more detailed explanation of sales funnels and why they're such good marketing tools in this free web class if you want to know more.
Sales Funnels And Product/Service Creators
If you sell your own product or service online and you're not using a sales funnel, I hope you see now that you are literally losing out on sales.
If you run a so-called "bricks-and-mortar" business and don't have any online presence, using a sales funnel is a great way to attract new customers.
Most people don't buy into anything the first time they see it. It takes an average of 7 exposures to that product before they will take action.
So if you're simply relying on traffic that arrives at your sales page or website to convert, that's a mistake.
You need to constantly remind people about your product and how it can make their lives better. Frame it as a solution to a problem they have.
A sales funnel gives you that control over your marketing efforts.
Sales Funnels And Affiliate Marketers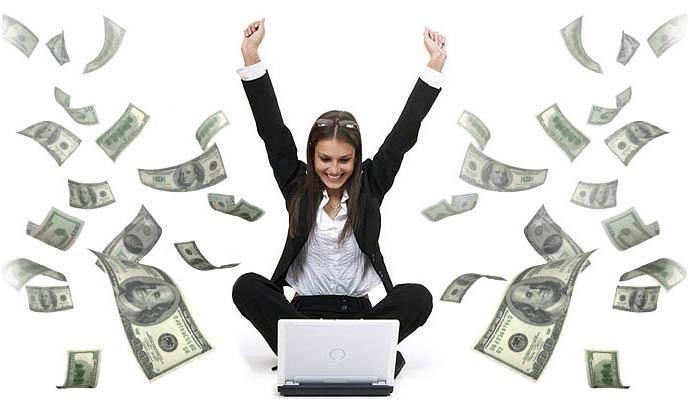 Affiliate marketing is also about distribution channels.
If you're an affiliate marketer, you're generally at the mercy of the product sales funnels you're given access to on the various affiliate networks like Clickbank and JVZoo.
As I mentioned above, buyers end up going into the product vendor's email list and not yours.
You may have noticed over the last several months that there's been a lot of talk about affiliate marketers using sales funnels themselves.
You can create your own funnel purely promoting affiliate products, but you get to decide what products best fit together for your funnel.
And the best part is that you, the affiliate marketer, gets to add people to your own email list so you have the opportunity to re-expose them to your offer and turn them into repeat customers.
So, How Do You Create A Sales Funnel?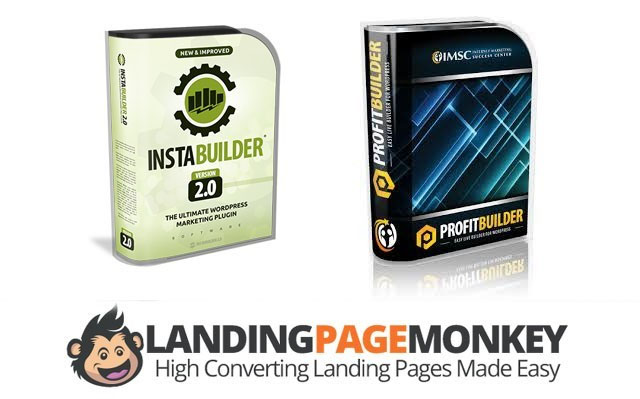 One way of doing that is to get a Landing Page Builder plugin for WordPress like InstaBuilder 2.0, OptimizePress or ProfitBuilder and use that to create your optin pages, thank you pages and other funnel pages and interlink them.
If you're only interested in creating optin pages, then Landing Page Monkey might be a better solution for you. This is an online service that also hosts your pages, so you don't have to have WordPress to use it.
You'll also need to have an autoresponder account. That's where your subscribers' contact information will be stored and where you send your emails from.
And you will need to integrate your autoresponder with your optin pages.
I went this route myself in the past and it certainly works.
But the big problem I had was that I'd forget over time how the pages in a funnel interconnected and then I'd have to waste time figuring all that out again if I wanted to change or update the funnel.
A failing memory as I get older hasn't helped either! 🙂
Thankfully, I found a solution that both takes the pain out of building the individual pages and saves me having to worry about how everything hangs together…
What Is Clickfunnels®?

Clickfunnels® is a service I only came across in early 2019 after it was recommended to me by a fellow marketer.
It's a service, created by master marketer Russell Brunson which makes creating sales funnels much easier than has been traditionally possible.
It can also build membership sites, create webinars and build blogs – (there's more info in this post).
Building these web properties is pretty much a matter of just clicking and dragging different types of page elements – headlines, text boxes, videos, images, buttons, etc – onto a canvas. The end result will be your desired page or site.
Ok, there are a lot of tools out there for building squeeze pages/optin pages/lead capture pages, membership sites and blogs.
So what sets Clickfunnels® apart from these?
It's the ease of use.
All the technical stuff is hidden from you and even non-techies can drag and drop and fill in text boxes.
It means you can now easily build a sales funnel and you don't have to hire a web developer to create one for you. And you don't have to pay them again and again each time you want to change your funnels.
There's a ton of funnel templates to choose from and you can tweak them however you want. You can even import funnels created by other Clickfunnels® members.
The user interface is slick and user-friendly and Support is top-notch.
I'll have more to say about Clickfunnels® in my next post but you can always check it out here if you don't want to wait till then.
Or take a look at the 22 free sales funnel templates available in this free 300-page ebook: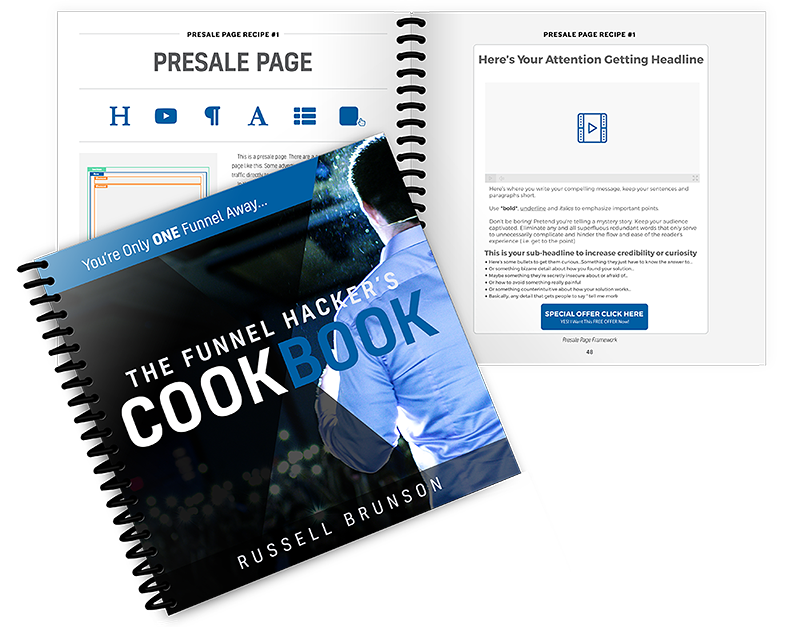 Free Resources:

GET FREE TRAINING ON LIST BUILDING AND ONLINE BUSINESS...