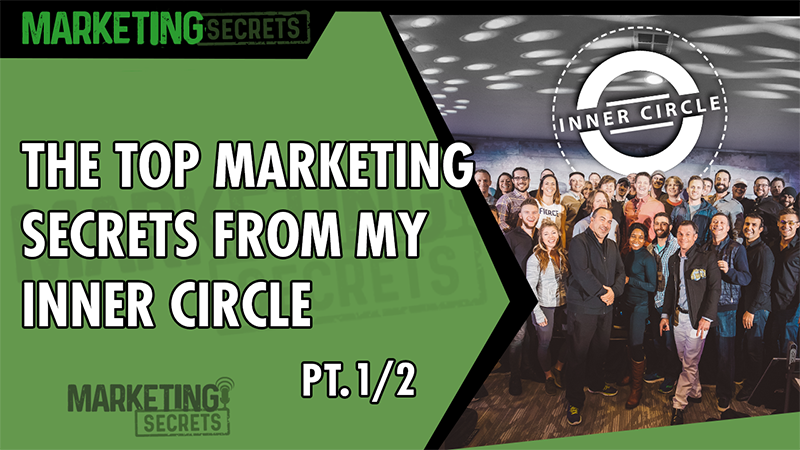 As Russell Brunson was relaxing on New Year's Eve with his family, he became excited wondering what sort of cool Marketing Secrets he'd be able to share with people in the year ahead…
And he thought about all of the secrets and "a-ha" moments that he's already shared over the last year (and decade)…
That's when it HIT him…
He's connected to his incredible Inner Circle of Funnel Hackers who are crushing it in their online business, right?
And for years, he made it a point to share all of his marketing secrets with whoever was prepared to listen…
But he wondered what their biggest marketing secret is…
So he sent them each a Voxer message inside his private group, and asked them…
"What's been your #1 marketing secret or takeaway that has been most pivotal for you over the last decade in your business?"
He received around 20 responses that night, and they were so amazing and thought-provoking, he had to share them with you…
Russell Brunson's Marketing Secrets Episode #273
On this very special, two part Marketing Secrets podcast episode, Russell asks his Inner Circle to weigh in on the biggest marketing secrets they have learned over the past decade.
You will hear from the following people on part one:
Peng Joon
Andrew Argue
Rachel Pedersen
Joshua Latimer
Pedro Adao
Jayme Amos
Jaime Cross
Annie Grace
Alison J Prince
Ryan Lee
Stacey Martino
Bart Miller
Discover his Inner Circle's TOP marketing secrets in Part 1 of the FULL podcast episode here…
These 7 and 8-figure entrepreneurs each share the "Big Domino" that they needed to knock down in order for their business to grow and scale.
Get The First 257 Episodes Of Marketing In Your Car / Marketing Secrets For FREE On This Pre-Loaded MP3 Player…
Free Resources:

GET FREE TRAINING ON LIST BUILDING AND ONLINE BUSINESS...