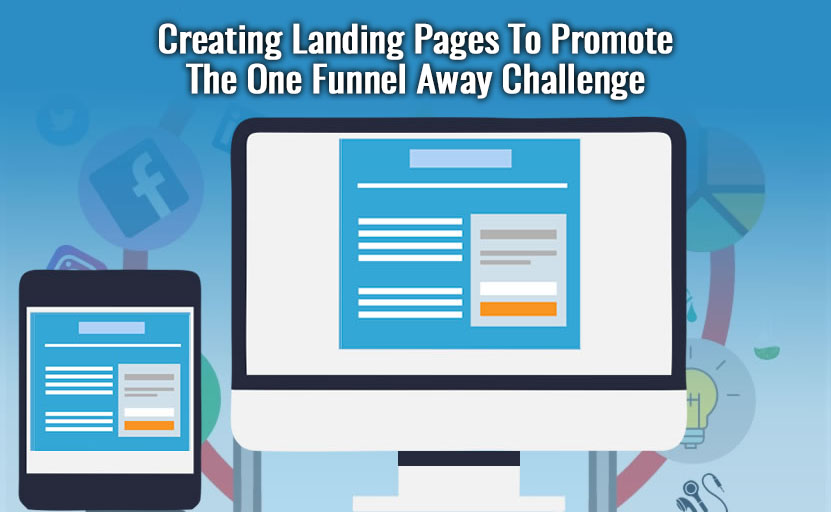 As you've probably seen from other posts on this site, I talk about Clickfunnels®, its associated products and its affiliate program.
Clickfunnels® – the short version – is an online sales funnel software service for creating landing pages and sales funnels, that can also build membership sites. It's the premiere such product available.
Affiliate marketers, like me, use Clickfunnels® as do product creators and service providers.
The One Funnel Away Challenge is a $100 course taught by the folks at Clickfunnels® that explains what sales funnels are, why they're so powerful and how they can boost the bottom line of any business with an online presence.
The latter half of the course teaches you how to build your first funnel using Clickfunnels®. Clickfunnels® has a 14-day trial period, so if you want to sign up for The One Funnel Away Challenge, don't sign up for the Clickfunnels® trial until you're advised to in the course.
The Clickfunnels® affiliate program is very popular with marketers because it's so good. You can earn up to 40% in recurring commissions on sales of Clickfunnels®, commissions of up to $1,000 on sales of associated products and if you bring in 100 members, you'll get an additional $500 each month to cover the cost of buying your dream car.
Because the tool is so good, the retention rate is high, so it's one way of building a passive income.
As I mentioned, a lot of affiliate marketers promote Clickfunnels®, The One Funnel Away Challenge and other associated products.
So, that means in order to be able to increase your chances of earning a commission, you need to set yourself apart from all the other marketers out there.
There are two ways of doing that:
Build a unique landing page that's not a clone of someone else's
Offer a stonking (impressive, exciting, or very large) bonus package – preferably one that's exclusive to you – to entice people to buy through your links
Promoting The One Funnel Away Challenge is the best way of getting people to sign up for Clickfunnels® as paying subscribers.
Since the course introduces Clickfunnels® to buyers, and they get to use the tool to build their first funnel, they know a lot more about the tool and what it can do by the end of the course, so they're in a much better position to make an informed choice about sticking with it or not.
Promoting The One Funnel Away Challenge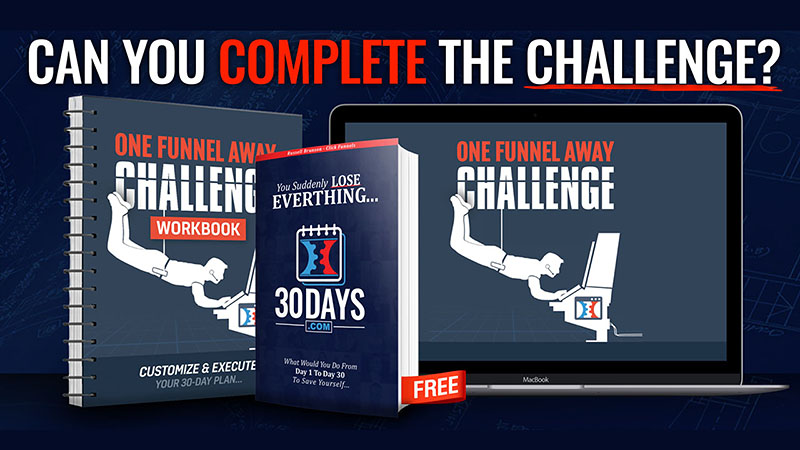 Any affiliate can grab their raw link in the back-office and start promoting that. It will send visitors directly to the One Funnel Away page.
But that's not the best approach.
It's better to send people to a landing page that has an optin form on it so you can collect their email address first, before redirecting them to the One Funnel Away page.
This is how you build up your email list over time. Even if  your subscribers don't buy One Funnel Away, you can mail them reminders and other offers as long as they remain on your list.
It gives you more opportunities to make a sale of one thing or another.
So, with that in mind, I created two landing pages:
The first was with Landing Page Monkey, a web-based tool for building landing pages ($99/year) [reviewed here]
The second was with InstaBuilder 2.0, a commercial WordPress plugin ($77 one time fee for a 3-site license; $37/year after year 1 for continuing support and upgrades)
So why did I use these tools when I have a Clickfunnels® account? Why not use Clickfunnels® to build the landing page?
I'm on the basic Clickfunnels® plan which is $97/mth. That lets you create up to 20 funnels or up to 100 pages (across all funnels), whichever limit is reached first.
I already have 18 funnels in my account, with 85 pages used.
With only 2 funnels left that I can create, I want to build ones that can have more than one page so I'm making the most use of the pages I have left in my account.
I also didn't want to dedicate a domain name to a single untested page.
The landing pages I built with Landing Page Monkey and InstaBuilder 2.0 are single pages.
Once a visitor enters their email address, they're redirected to the One Funnel Away Challenge page.
So here's what the page built with Landing Page Monkey looks like: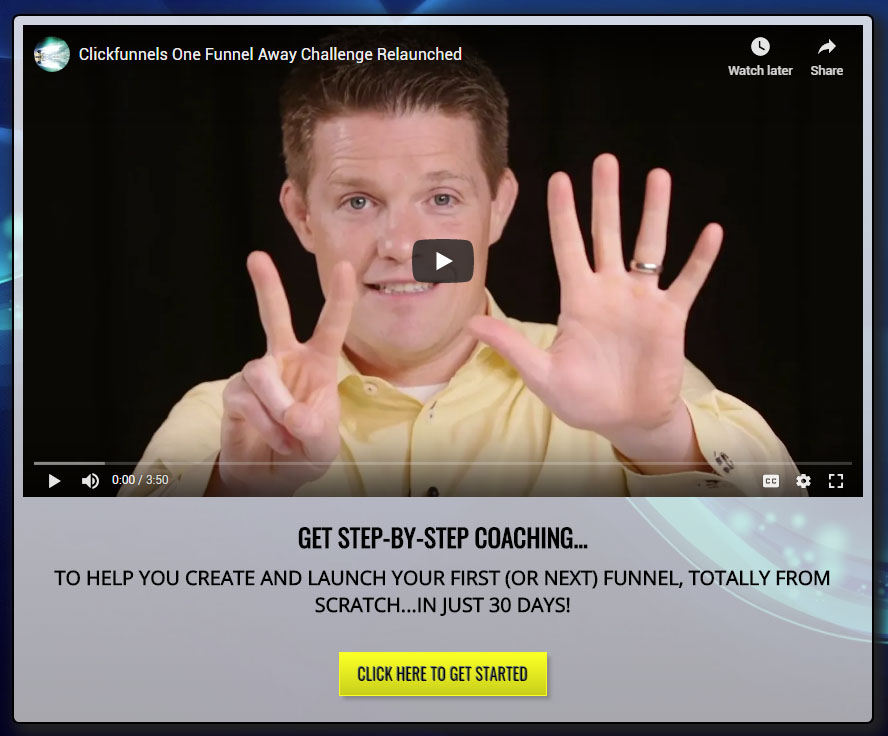 You can see it in action here.
One limitation with Landing Page Monkey is that you can only type in relatively short headlines and sub-headlines. And there weren't enough characters allowed to list my bonus package.
The "CLICK HERE TO GET STARTED" button opens a second window that asks for the visitor's email address. And it's there that I had to list my bonus package: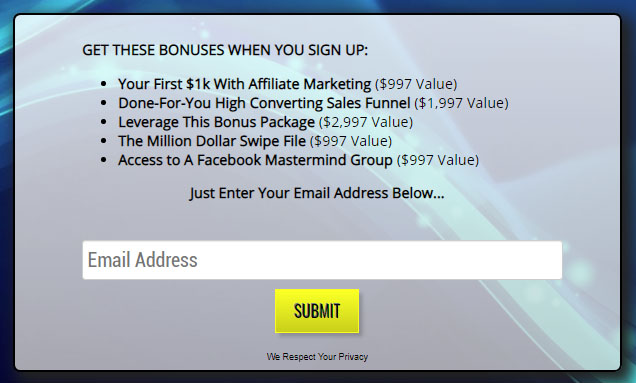 Since this page was built using a web-based service, I don't need to host the web page myself, so I don't need to have my own website to build and display pages.
With the InstaBuilder 2.0 WordPress plugin, I decided to build a single landing page rather than a multi-part page like I did with Landing Page Monkey.
BTW, if you'd like a secure WordPress site set up for free, I can do that for you here. You could then add a landing page builder plugin and start building your own pages.
This single page I created with the InstaBuilder plugin displays everything I need to convey in the one box.
InstaBuilder 2.0 takes the same approach to building pages as Clickfunnels®.
Both use a block-based system for placing and arranging different page elements.
If you wanted to get a feel for what it's like building a page in Clickfunnels®, InstaBuilder is a good primer.
The are differences of course in the page elements you can use and in how funnels are set up, and Clickfunnels® provides additional features.
So, here's the page I created with InstaBuilder: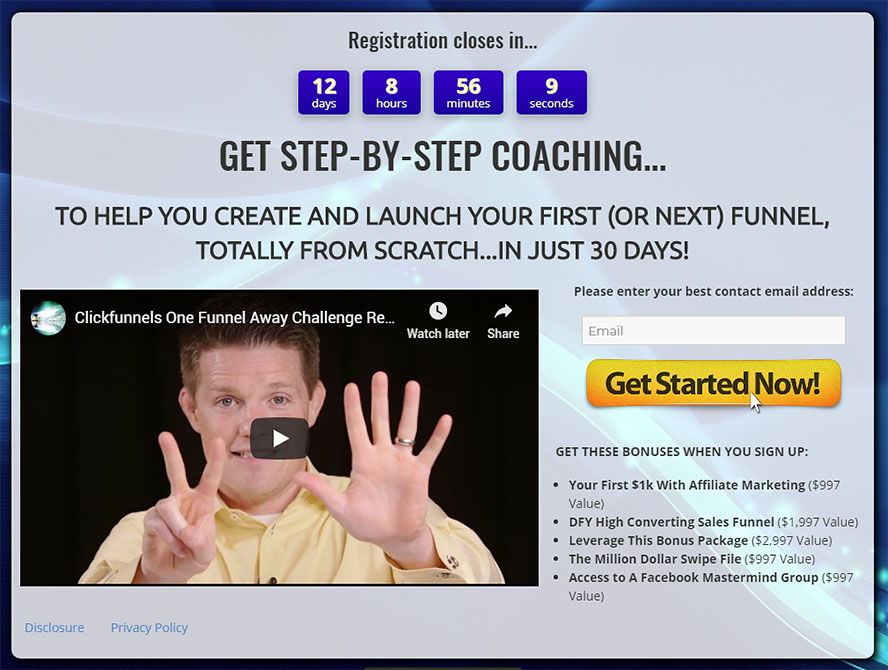 You can see the page in action here.
As you can see, this page has a timer counting down to when registration for The One Funnel Away Challenge closes for the next batch of students.
This is not something that's available in Landing Page Monkey.
It can be emulated by using another tool called Conversion Gorilla which allows you to create attention bars that you can place at the top or bottom of pages.
I have the Pro version of the tool which allows me to put an attention bar over pretty much any webpage online, not just pages on sites I own.
So this means I can put attention bars on pages created with web-based services, like Landing Page Monkey.
The bars will appear based on the trigger you set – immediately when someone visits a page; after X number of seconds; when someone scrolls Y% down the page or when someone goes to leave a page.
You can see the Landing Page Monkey page with a countdown timer on an attention bar here.
Some basic animations are used on both squeeze pages to make them a little more dynamic.
Summing Up
There are plenty of other tools out there for building landing pages, from web-based tools like OptimizePress 3.0, Optin Monster and, of course, Clickfunnels® to WordPress plugins like ProfitBuilder and Elementor.
If you want to build landing pages, pick a tool you like and learn it inside out.
The web-based tools are all subscription based so you'll be paying ongoing fees to use them and keep the pages you've built online.
You pay once for most of the WordPress plugins. Some will require annual fees so you can continue to get support and upgrades. But they won't stop working if you decide to stop paying.
Landing pages and optin forms should be one of the tools in your marketing arsenal.
If you don't build a list and engage with your subscribers, you are – literally – leaving money on the table.
The advantage of list building and doing email marketing is that you have so many more opportunities to make sales down the line.
It's a more stable way of building a consistent income than relying on making sales just from your web pages.
If you're new to all this, then I recommend you read these articles:
Free Resources:

GET FREE TRAINING ON LIST BUILDING AND ONLINE BUSINESS...