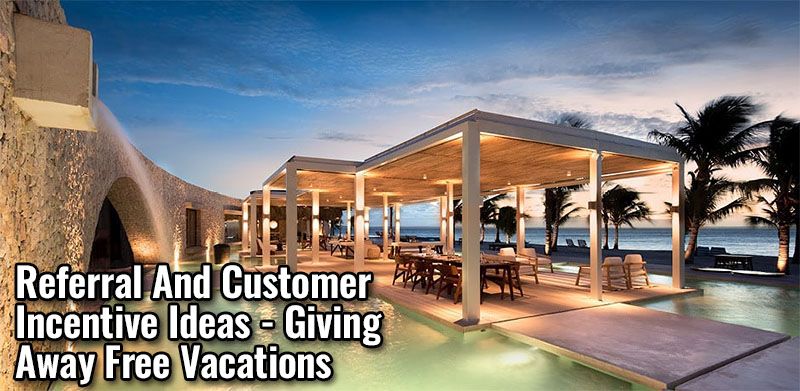 Watch The Customer Incentive Ideas Video:
So you've built your sales funnel and you're sending people to your squeeze page but sales are on the low side…what can you do?
You need to come up with some referral (if you're an affiliate marketer) or customer incentive ideas to add into your funnel to help your visitors get off the fence.
Customer Incentive Ideas And Your Bonus Stack
In the affiliate marketing and internet marketing worlds, the way to incentivize visitors into becoming mailing list subscribers and paying customers is to offer a package of bonuses.
This is sometimes referred to as the bonus stack.
Since affiliate marketing is such a competitive market, affiliates have been building bigger and bigger bonus packages.
The problem is that many of these packages contain 3rd-rate products – recycled Private Label Rights (PLR) products that are years out of date.
Or they're cheap and nasty products where rights to them can be bought for a few dollars each.
They hardly make for inspiring sales incentive ideas.
Quality always trumps quantity.
So does uniqueness and exclusivity.
If you can offer bonuses to your prospects that are not widely available, all the better.
Many marketers create their own mini-courses and training that they can offer as exclusive bonuses.
If you're prepared to spend real money – think a few hundred dollars each time – you can buy the rights to quality products you can offer as your own bonuses.
But, again, in the affiliate and internet marketing world, most of the bonuses offered are related to those niches in some way.
It makes sense.
And, with a bit of research and hunting, you can either create or buy such bonuses.
But what if you're not in these niches?
What if your niche has nothing to do with marketing, like sport, pets, hobbies, etc?
There just aren't that many customer incentive ideas you can come up with to use in these niches.
Yet there is something that appeals to most people, regardless of what their interests are, what business they're running and what niche they happen to be working in.
What Are Those Incentives That Appeals To Everyone?
Free vacation and restaurant incentives.
Who doesn't love a great vacation, especially if it's free?
Or a fantastic meal?
A bonus like this would set you apart from all the other marketers out there who just load up their bonus stack with internet marketing related products…
…or who feel they've nothing of value to offer as a bonus in their own niche.
Potential buyers are heavily influenced by bonuses, especially high-value customer incentive ideas that aren't available just anywhere.
After all, people love to be treated like royalty.
No matter what kinds of products or services you sell, NOTHING seduces a fence-sitter like throwing in a free vacation when they say YES to your offer, upsell, or referral request.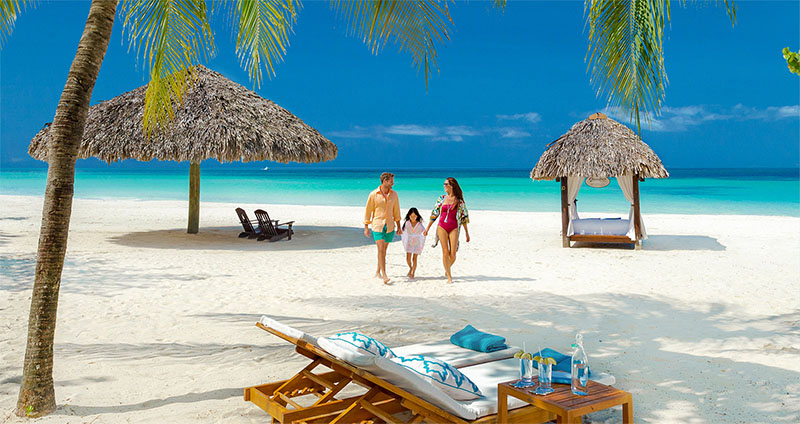 Your products and services become irresistible when your prospects start picturing themselves relaxing on a sun-soaked beach…
…or gazing at the endless neon of the Vegas Strip…
…or sampling local cuisine at a picturesque Mexican plaza – all on someone else's dime.
And being able to provide your new buyers with fantastic vacations feels great too… especially since it's not YOUR dime (it's this company's).
This incentives program, at its most basic level, allows you to give away each month:
10 vacation incentives (to 50 global destinations)
10 restaurant incentives
10 Hotel Savings Card incentives
…and you also get 1 or 2 Mastermind training sessions to help your business grow each month.
Once you welcome your new client or customer on board, you'll set them up to receive a certificate to redeem their vacation package.
They'll then have 7 days to activate their certificates.
Once activated, the certificates are valid for 18 months, and certificate holders can book and travel any time within that time-frame.
So your buyers get complete freedom to enjoy their memorable, luxury trips!
And you get to claim one free vacation for yourself and your family each year, up to the value of $1,500.
Pricing Structure
There are 3 pricing structures available, depending on how you want to pay.
Each of these has 3 plans 0 Silver, Gold and Platinum.
You also get a 7-Day Free Trial to evaluate the program before you're charged any fees.
Here are the plan prices if you want to pay monthly to be able to give these incentives away: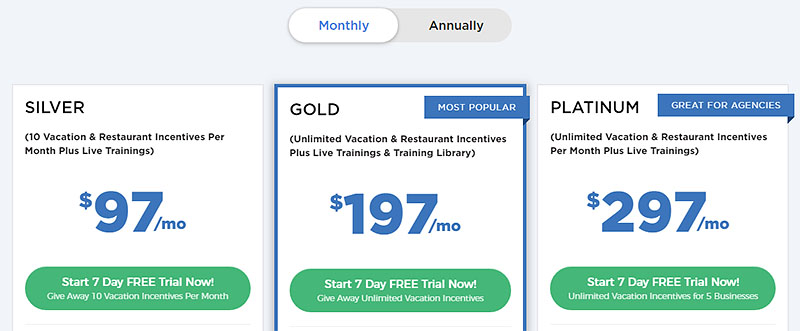 If you'd prefer to pay annually rather than monthly, there's a 32% discount on the Silver plan, a 33% discount on the Gold plan and a 30% discount on the Platinum plan.
You also get a 7-Day Free Trial to evaluate the program before you're charged any fees.
These are the monthly equivalent prices if you pay annually: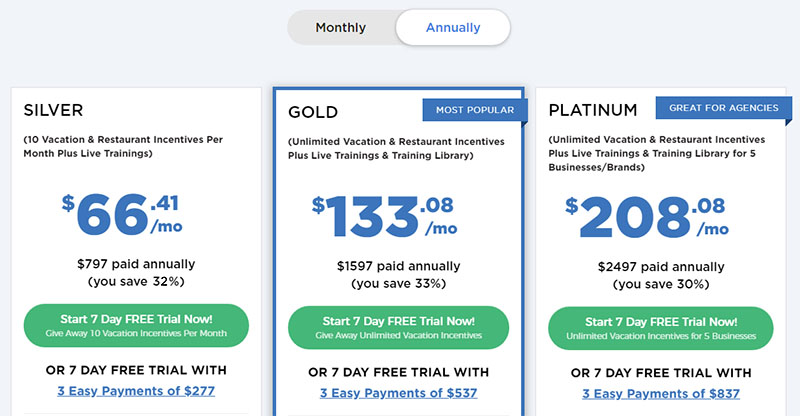 There is also a 3-pay option for these annual plans, but the costs of each plan are a little higher if you pay this way:
The Silver plan is $831 (equivalent to paying $69.25 per month) – a 28% discount.
The Gold plan is $1611 (equivalent to paying $134.25 per month) – a 32% discount.
The Gold plan is $2511 (equivalent to paying $209.25 per month) – a 29% discount.
The third pricing structure is a Special Offer and gives higher discounts but no free trial.
There's no monthly payment option with this pricing structure either, so you have to pay annually.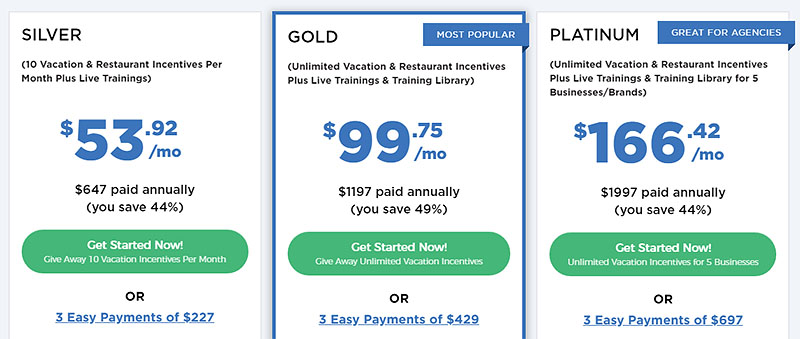 There is also a 3-pay option for these annual plans, but the costs of each plan are, again, a little higher if you pay this way:
The Silver plan is $681 (equivalent to paying $56.75 per month) – a 41% discount.
The Gold plan is $1287 (equivalent to paying $107.25 per month) – a 45% discount.
The Gold plan is $2091 (equivalent to paying $174.25 per month) – a 41% discount.
Click Here To Learn More About This Program…
And there's info on the Demo and Free Vacation pages that explains how this all works.
I'm In The Internet Marketing / Affiliate Marketing / Make Money Online Niche – What Good Are Vacation Incentives To Me?
The simple fact is that it doesn't matter what niche you're in or what you're selling… people love to travel… and the prospect of a free luxury vacation influences them FAR more than discounts or bonus courses!
A study by Oxford Economics showed that people are 3 times more motivated to take action when offered tangible incentives (like travel) than when offered cash incentives (like discounts) or intangible incentives (like digital goods).
And when you give your buyers, clients, and repeat customers luxury vacations, you're not only boosting their desire to buy – you're creating a permanent positive impression.
YES! When your buyers enjoy their amazing vacation experiences, they'll want to tell EVERYONE that you gave it to them!
And that translates to tons of visibility, glowing referrals, and new buyers you don't have to pay for!
Remember, it's not just about making your core offer irresistible – with customer incentive ideas like these, giving away free trips lets you incentivize upsells, referrals, and repeat business… letting you dramatically decrease your advertising expenses.
Not Interested In The Program? Become An Affiliate For Free Instead!
If you're not interested in signing up to offer these incentives yourself, there's an affiliate program that's free to join.
This lets you earn 40% Monthly Residual Commissions (passive income).
If you can refer 200 paying members, they'll pay an additional $500 per month to cover the cost of buying your dream car.
Any business that's trying to get more customers and to incentivize potential customers could use a program like this.
As an affiliate, you don't have to be a paying member, but you can still earn those hefty passive commissions from people and businesses who will sign up for the incentives.
Click Here To Sign Up As An Affiliate…
Customer Incentive Ideas – In Conclusion
You want to stand out from the crowd so that what you offer is seen as unique.
If you create your own products or services, maybe you have already created something unique.
On the other hand, maybe your business competes with others that offer the same or similar products or services.
If you're an affiliate marketer, then you are competing with other affiliates to sell the same things.
Offering exclusive, high-value incentives is a fantastic way of drawing customers to you and enhancing your business.
You don't need to offer incentives that are tied to your niche to offer something valuable.
Evergreen customer incentive ideas like free luxury vacations, free meals at top restaurants and free stays at the best hotels will appeal to everyone.
Free Resources:

GET FREE TRAINING ON LIST BUILDING AND ONLINE BUSINESS...