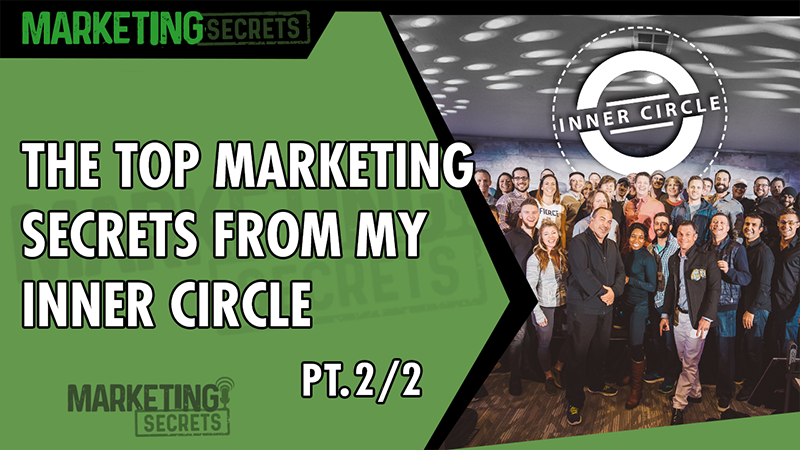 So the other day you got to hear from how Russell Brunson's Inner Circle Members were killing it with these 'best of the best' marketing secrets.
They shared their primo stuff…
And today these superstars share more incredible strategies that you can easily implement in your online business.
Russell Brunson's Marketing Secrets Episode #274
Take a look at this list of solid gold…
Daniel Den of X Factor Effect reveals how to add an extra 6 and 7 figures to your bottom line by doing this ONE simple thing in your business (it has nothing to do with 'selling' or 'persuasion)
Joe McCall of The Real Estate Investing Podcast says doing this for the past 10 years is the secret to his success
Krista Mashore of Krista Mashore Coaching does this BEFORE offering a lead magnet and gets INSANE results
Plus, you'll also hear from the following people…
Ray Higdon
Sarah Petty
Marley Jaxx
Eric Beer
Katie Richardson
Thomas Shipley
Nicholas Bayerle
Mike Arce
Joe Marfoglio
Chris Baden
So listen here to get this amazing, valuable marketing advice from some of the top marketers out there right now.
Discover what these life-changing secrets are on Part 2 of Russell's "Top Marketing Secrets from My Inner Circle" podcast:
Plus there's a lot more…
Roy Higdon…dead broke and facing foreclosure a few years ago… implemented this and grew his company 33% to earn his 2 Comma Club X Award ($10 million in revenue in a single year)
Sarah Petty of Joy of Marketing drops a massive value bomb to turning slumping sales around in just days with this elegant and simple idea
Get The First 257 Episodes Of Marketing In Your Car / Marketing Secrets For FREE On This Pre-Loaded MP3 Player…
Free Resources:

GET FREE TRAINING ON LIST BUILDING AND ONLINE BUSINESS...