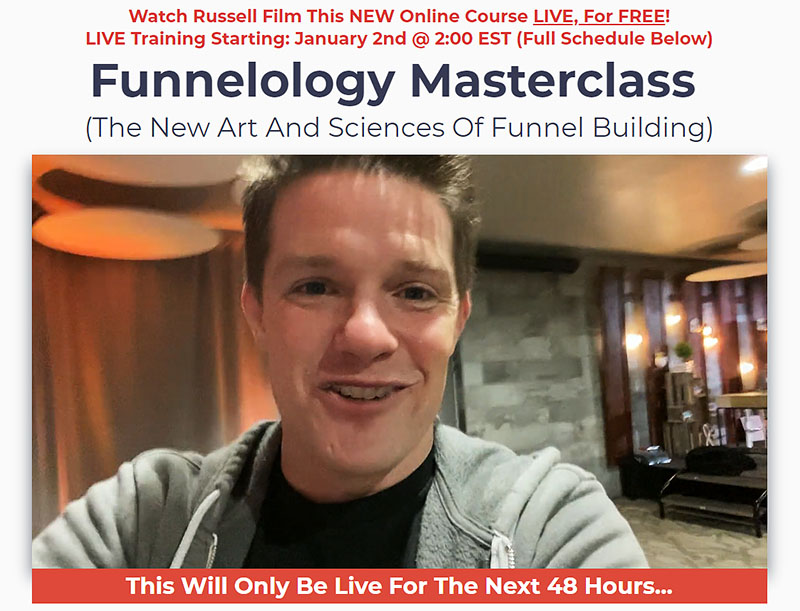 In just 24 hours, (on Thursday, January 2nd at 2PM EST), Clickfunnels® founder, Russell Brunson, is doing a Facebook LIVESTREAM where he's going to film and GIVE YOU an entirely new training FOR FREE!
It'll be like sitting in a room with him…
And taking part in one of his 3-day high-end coaching groups.
EXCEPT that you don't have to fly anywhere! 🙂
It's called…
"Funnelology Masterclass: The New Art and Science of Funnel Building"
Russell just did an ENTIRE REWRITE of his free book "Dotcom Secrets"…
…And it's ALL NEW funnel building hacks, lead generation and sales strategies, and never-before-revealed secrets.
So, he'll be teaching you these strategies in the Funnelology Masterclass Livestream over 3 days!
You get to watch and participate in this brand new high-level training right from your desktop, laptop, or mobile from anywhere in the world!
The entire "Funnelology Masterclass" course is absolutely FREE.
Just to be clear…
This isn't a webinar…
This isn't your typical Facebook Live…
And this isn't a boring 'talk.'
This is Russell actually creating a whole new course LIVE (that will be sold after filming), and you get to be a part of the process – with new funnels, strategies, and secrets!
So make sure to mark your calendars.
It starts tomorrow, Thursday, Jan 2 at 2pm EST.
Russell has never done anything quite this extensive LIVE before, so he's both excited and scared as all get-out.
(What could possibly go wrong on a live event, right?) 🙂
So yes, because it's LIVE, you also get to watch him goof up and laugh at him.
(Now there's an incentive to show up for the training!)
Check below for a detailed breakdown of the 3 days you'll have together below:
Okay, here's the perfect New Year's Resolution that can add untold figures to your business:
Watch the entire training
Pick just ONE of the new sales funnel templates or strategies
Implement it IMMEDIATELY
Don't overthink it, don't try to get it perfect…just get it going.
And watch what happens.
You want to make sure to tune in for all 3 days of training because this course will be sold for hundreds of dollars after the live taping.
You can see the modules and times slots on the Registration Page.
Here's the schedule:
DAY 1
Session #1: The Secret Formula
Session #2: The Value Ladder
DAY 2
Session #3: Front-End Lead Funnels
Lead Funnels
Survey Funnels
Summit Funnels
Session #4 – Unboxing Funnels
Book Funnels
Cart Funnels
Challenge Funnels
DAY 3
Session #5 – Presentation Funnels
Video Sales Letter Funnels
Webinar Funnels
Product Launch Funnels
Session #6 – Back-End Phone Funnels
Free Resources:

GET FREE TRAINING ON LIST BUILDING AND ONLINE BUSINESS...