What Is List Building For?
Income security is the top answer. When you're building websites and doing affiliate marketing with them, there's a constant struggle to get your sites and pages ranking highly in the search engines and keep them there.
High rankings mean more traffic. And more traffic means more sales.
But there are two problems with this business model:
Any sales you get are what I call drive-by sales. A visitor has found your site online and bought a product from you. And you'll probably never sell them anything again, unless you have a very loyal readership.
Your site's rankings are at the mercy of the search engines, especially Google. If they decide your site is breaking rules (that they change/update constantly), then your site may suffer. And with that, your sales go down. Your site could also be targeted by an unscrupulous competitor who points backlinks to your site from nefarious neighborhoods, suppressing your rankings and cutting your sales.
Is List Building An Essential Business Tool?
With list building you are in full control of your list of subscribers. It's a business asset that has real value.
If your sites tank for any reason, you'll still have your list.
If the search engines go down or revamp their rules, killing your site's ranking in the process (if you this this is an alarmist scenario, it happened in 2012 when Google introduced the Penguin algorithm), you'll still have your list.
With a list, you have a direct communication channel with your subscribers. You can market to them multiple times and someone who buys from you is likely to do so in the future as you build trust with them.
List building is a very scalable business. The more subscribers you get, the more sales you make. But you do need quality subscribers.
A list owner with a small list (a couple of hundred) of very responsive subscribers will often make more money than someone with a large list of unresponsive subscribers.
To be crass, owning a list is like having your own ATM.
And you don't need to have a website to build a list. You can ignore that overhead of time and effort if you want to.

List Building For Profit
List Building for profit and success is all about getting people to sign up for your mailing list.
And then providing them with a huge amount of value by sending them high-quality information in exchange for their email address.
There are two ways to have people added to your list:
Single Opt-In – where once they enter their information, they're added to your list
Double Opt-In – where they're sent an email where they have to click a link to confirm that they want to sign up for your list. If they don't click this link, they don't become your subscriber.
Once a subscriber is actually added to your list, you can begin sending valuable information and promotional follow up emails that ideally will complement the free gift that you originally gave them.
These followup promotions can be for a variety of things
Telling them about your recent blog posts
Giving them more free products
Sending them offers for paid products that you're an affiliate for
Letting them know about your own products and services
Etc.
Don't cross promote from other niches. So don't try to sell golf gear to a list of people interested in losing weight.
Keep all your promotions and content firmly in the niche that your subscribers want to get more information on.
If you mix niches, your subscribers will become confused and will start unsubscribing or ignoring your emails.
Market to your list in the right way and you will be able to make money from your list!
The best affiliate marketers are also email marketers. They don't rely on making sales purely from people who stop by their website.
They build a list, or more than one, each in a different niche, so that they can market to the same people again and again. They get repeat customers this way.
List Building For Beginners – Squeeze Pages Are Essential
Collecting subscribers (also known as "leads" or "business leads") is done using a combination of squeeze pages and opt-in forms.
Squeeze pages are created using services like Clickfunnels®, GroovePages, LeadPages, UpViral, ProfitBuilder, OptimizePress, InstaBuilder and Landing Page Monkey.
Opt-in forms are generated by your autoresponder service and are embedded into the HTML code of your squeeze page template.
If you're new to all this, it may sound complicated but it's really not. It's simply a cut-and-paste procedure.
Each time that someone provides their name and email address, they get added to your mailing list database (which is stored on your autoresponder service) and they become an active subscriber to your list.
It's then up to you as to what type of emails you'll send out and how often. It's a good idea to provide a mix of valuable information along with free gifts and promotional offers.
Don't make the mistake of making every email a promotional offer. A good rule-of-thumb is to prove 3 emails with useful information for every promotional email you send out.
This helps convert them from passive subscribers into active customers.
Talk to your subscribers too, not at them. Add some personality into your posts so they get to know you as a person and then they start to trust you and what you have to say.
Establishing a relationship with your subscribers will actually encourage one-off sales as well as repeat sales.
This is a practice used by both large and smaller companies worldwide. So you should replicate what they do.
Regardless of the size of a business, these mailing lists have proven to be the most reliable source of recurring income over time.
List building and email marketing are the heart and soul of internet and affiliate marketing today.
If you ignore this aspect of your online business, you are simply leaving money on the table.
Email List Building For Profit – The Tools You Need
List building is for marketers who see the value in getting repeat business and who want to cut their advertising costs on various platforms like Adwords, Bing and Facebook.
If you want to build successful email marketing campaigns, then you're going to need some tools to do the job:
1. An Autoresponder Service
This is a service you will have to pay for. With autoresponder services like GetResponse, Aweber or ConvertKit, you're able to create an unlimited number of lists. Opt-in form code will be provided for each of your mailing lists.
This code can be added to your existing website, for example to add the opt-in form into your blog's sidebar, or at the bottom of each post. Or it can be added to a squeeze page – a stand-alone page.
Segmenting your lists is now much easier than it used to be. You can set rules that will move subscribers from one list to another based on what they do.
So, for example, if a subscriber is on List A and they buy a product you recommend, they are moved to List B.
If they don't buy, they stay on List A.
List B might be designed to send its subscribers higher-priced offers than List A and, since you now have a paying customer, they might be inclined to spend more money with you.
Building multiple lists will allow you to tailor your emails so that they are targeted to customers interested in specific topics or who take specific actions.
2. A Squeeze Page
A squeeze page is a fairly simple page with only one function – to get a visitor to sign up to your mailing list.
It contains the opt-in form provided by your autoresponder service.
It also contains a description of what the potential subscriber will get if they hand over their name and email address to you.
And, finally, it features what's called a Call To Action. This is a button that tells them what to do. For example, Click Here To Sign Up!, Click Here To Download!, Click Here To Access >>>, etc.
Note that all those examples contain the phase Click Here. You have to give your visitor an explicit instruction on what to do next.
You should also be very specific about telling them that they need to fill in their email address and name to get what you're offering. Not everyone is familiar with squeeze pages and what to do on them.
It's also vitally important that you accurately tell a potential subscriber what they will receive if they sign up.
If they don't get what they expect, you'll have lost their trust and they'll be gone in a flash.
If a visitor fails to follow through on filling in the required information and clicking the call-to-action button, for whatever reason, then you've lost that potential subscriber.
Squeeze pages are similar to traditional sales pages in that they need to motivate a visitor into carrying out a specific action. That's getting them to buy in the case of a sales page and to sign up in the case of the squeeze page.
However, the two types of page are structured very differently.
Sales pages are typically designed to provide as much information about a product or service as possible to entice a visitor into becoming a paying customer.
A squeeze page essentially hides all that detailed info and asks the visitor for their email address so that they can access that information.
A free gift is typically offered on a squeeze page as an incentive or reward to a visitor for signing up to your mailing list.
After you pick the niche for your mailing list, pick a giveaway product that's tightly tied to that niche.
While keeping your giveaway in mind, and developing a squeeze page, you need to have a strong focus on your market, and design your offer around an existing problem, need or question.
To come up with the best giveaway offer possible, you'll need to thoroughly evaluate and understand your market, along with competing offers so that you're in a position to offer a relevant, in-demand product that will capture the attention of your target audience.
Adding a sales funnel into the mix is the next step. A funnel is a series of web pages that provide successive offers to someone who signs up to your mailing list.
It might simply consist of your front-end squeeze page and a Thank You page that redirects your subscriber to a low-priced offer.
Or it could be a series of free training videos that you direct subscribers to, one day after another, by sending them emails.
Your imagination is the limit here.
Funnels can be simple or sophisticated and most marketers end up buying a plugin like ProfitBuilder, OptimizePress, InstaBuilder or Elementor to manage their funnels or subscribing to cloud-based services Clickfunnels®, GroovePages, LeadPages or UpViral.
Putting it all together, your list building funnel is made up of four essential parts:
An autoresponder service – check out the mini-reviews of the more popular services here

Your squeeze page with the opt-in form provided by your autoresponder service

An optional Sales Funnel that's designed to get more sales and conversions from your subscribers
A compelling, high-quality offer, incentive or giveaway to get people to sign up

An email series that provides valuable, quality content on a regular basis, interspersed with promotional offers
3. Your Giveaway (Incentive)

The most important aspect of your squeeze page is essentially your giveaway.
All your marketing efforts will be in vain if your offer doesn't motivate visitors to subscribe.
So you need to offer something that will appeal to a large audience rather than a small one.
There are exceptions, of course. If you know that a small audience are only too willing to spend money, then marketing to that small audience would be well worth the effort.
But the higher the quality of your giveaway and the more relevant it is to your target audience, the easier it will be to convert visitors into subscribers.
The best giveaways offer a solution to a problem. Examples of ebook or report giveaways would be
How to lose 30 lbs in 6 weeks

How to fit into that slim wedding dress come Wedding Day
How to stop unwanted urination from your cat

Dog training tips for owners with over-active dogs

Anti-snoring tips that let your spouse have a good night's sleep

Natural remedies for hemorrhoids
If you want to make instant sales, then hold back some of the most important information for a paid ebook or report that you offer as an upsell as soon as they subscribe.
Charge only a small amount for this.
The purpose is to get them over the threshold into becoming a paying customer.
You can always create your own product from scratch (much more time-consuming). Do some research into finding products that are selling well in your niche.
Create a short version of an existing product if it's a report or ebook. Don't plagiarize. Write in your own words.
You may need to buy a few products yourself for your research.
Another popular way to get a sale is to do audio and/or video versions of a report or ebook. Some people prefer learning from those mediums than from reading. And they'll be prepared to pay a small fee to get versions they can watch and listen to on their mobile devices.
If you'd prefer to shortcut the product creation phase and get audio and video versions of pre-written reports and ebooks as well, take a look here and here (to get 2 new PLR reports each month)
If you find that someone is selling a similar product and you're giving away a high-quality product for free, just think how easy it would be to get new subscribers to your list.
What better way to start building a relationship with your subscribers than to give them a product with value equal to something they'd have to pay for elsewhere.
These are the kinds of products you could offer:
Email List Building For Business – Some Final Tips
What's essential to a successful, quality giveaway product is that it must be relevant to your niche, it must be something people are actively searching for and it must be in demand.
It also helps if a similar product is being sold successfully in your niche because people prefer to get something for free (from you) rather than having to pay for it (somewhere else).
Remember, treat your subscribers with respect. Give them real value in your emails. And don't make every email a promotional offer. Talk to your subscribers. Build a relationship with them. And if they contact you, answer them in a timely manner.
It's often a good idea to send out a Q&A style email where you've collected some questions from subscribers and answered them. Not every subscriber will contact you when they have a question. But you can bet that a lot of them will benefit from you answering questions they perhaps were too afraid to ask.
If you do that, then you'll soon start building a list of subscribers who will be eager to read your emails.
If you plan on promoting a sizable ebook or a multi-part e-course, a very powerful method for building a list and getting sales is to release a "leaked" chapter as your giveaway.
This gives subscribers the ability to assess the quality of your work and it can also generate quite a bit of buzz about your full product launch.
Ask subscribers to share the leaked chapter with everyone they think would be interested in your full product. Include a link to your squeeze page in your leaked chapter so these people have a chance to subscribe too.
Doing this is known as creating a viral campaign. You'll get sales from non-subscribers and you'll also build your list more quickly.
Of course, anyone on your list could also get early-bird access to your full product for a discount before it launches to the public. Another incentive for people to sign up.
If you feel your writing skills aren't up to the challenge, you can always outsource your writing project to trustworthy freelancers on outsourcing sites like:
There are some great listing building techniques outlined in these free webinars that will help you to boost your subscriber numbers:
So in this List Building For Dummies style post, I hope I've explained what list building is for and why it really is an essential business tool.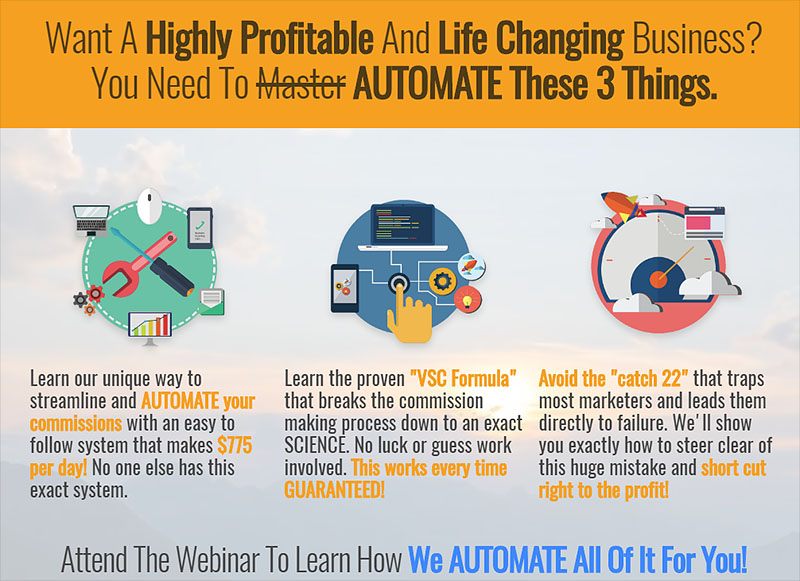 If you've any comments, questions or experiences you'd like to share, please leave a comment below.
Free Resources:

GET FREE TRAINING ON LIST BUILDING AND ONLINE BUSINESS...