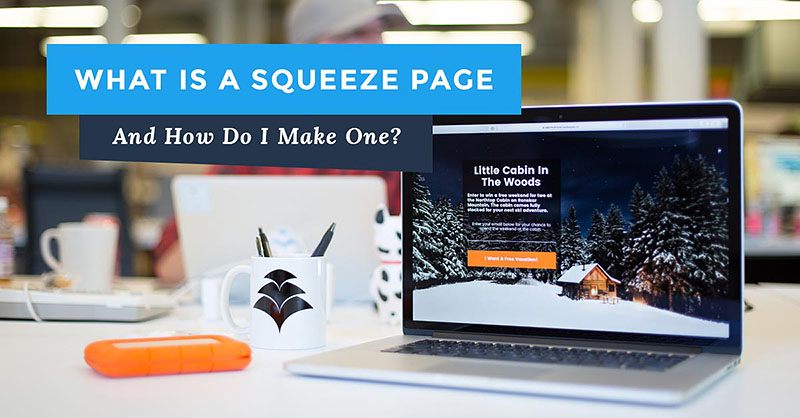 What Is a Landing Page?
"Landing page" is a general term given to any page where you directly send traffic.
While they can be regular blog posts and pages, they are more usually pages that present an offer, product, service or optin/signup form to a visitor.
What Is A Squeeze Page?
You can think of a Squeeze Page as a specialised type of Landing Page.
These pages contain an opt-in form (also known as a signup form) that asks the visitor to provide their email address and sometimes their name in return for something.
That might be to sign up to a mailing list; to receive a free gift; to register for a webinar, etc.
That free gift could be a report, ebook, a video tutorial or some software.
Or it may be to access some more detailed information about what you're offering or some free video training.
But the bottom line is that you're building your email list as people sign up on your squeeze page.
While a landing page can be a squeeze page, it can also be a standard sales page for a product, one that doesn't ask a visitor to join a list. So "landing page" is a somewhat broader term.
What Is A Sales Funnel?
A sales funnel is the process you take people through to convert them from visitors into paying customers.
This diagram gives you an outline of a typical funnel.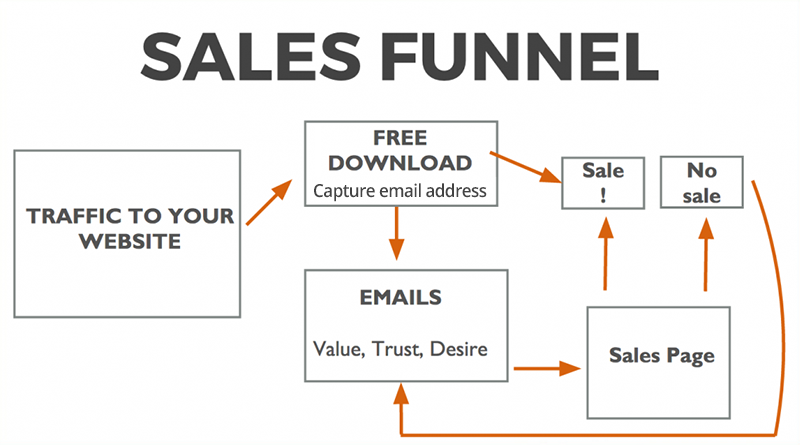 You send people to a squeeze page or optin page and collect their email address.
Usually, some kind of free gift is offered as an enticement for people to hand over their email address.
Then, typically, on your Thank You page, you'd offer them a low-cost product (under $10 works best).
And from there, they start getting your email sequence.
In those emails you can point your subscribers to other pages which offer training or more information about the product(s) you're promoting.
And, as long as your subscribers stay with you, you can continually promote offers to them for free.
Just don't abuse them by sending them offer after offer. Provide free training and give away free gifts. Give them value as often, if not more often, than you send out promotional offers.
And, because you own your email list, there are no paid ad costs to worry about to reach your subscribers. 🙂
For more information on sales funnels and why you might need one, check out this post.
The Need For An Autoresponder Service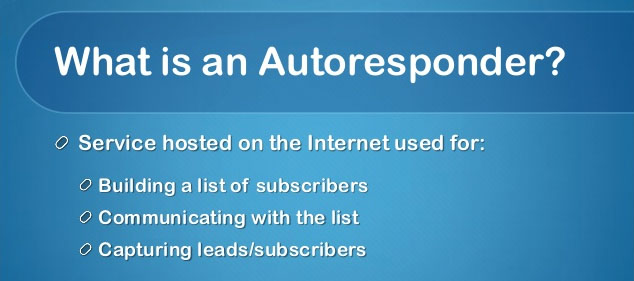 On the other side of a squeeze page is an autoresponder service. This actually collects and stores your subscribers' email addresses and names.
It's also the tool you'll use to send out emails and newsletters to your list.
Since these services require physical resources, they are not free.
You need to factor in the monthly cost of an autoresponder service into your business budget.
Most services work on an escalating price model.
You pay a certain fee to send out a certain number of emails to a certain number of subscribers each month. Each autoresponder has its own limits.
Some Mini Autoresponder Reviews
This isn't an exhaustive list of autoresponders but it does contain the most popular email list building services. I've listed the various limits each imposes and their prices.
All autoresponders provide tools for creating opt-in pages. However, these are generally fairly basic and if you want more control over how your opt-in pages work and to make them more dynamic, then it's better to use a separate tool to create your squeeze pages (see below for suggestions).

This is one of the grand-daddies of autoresponder services. They've been around for years and have a rock-solid reputation.
You can try out the service free for 30 days.
This is the autoresponder I've been with for years.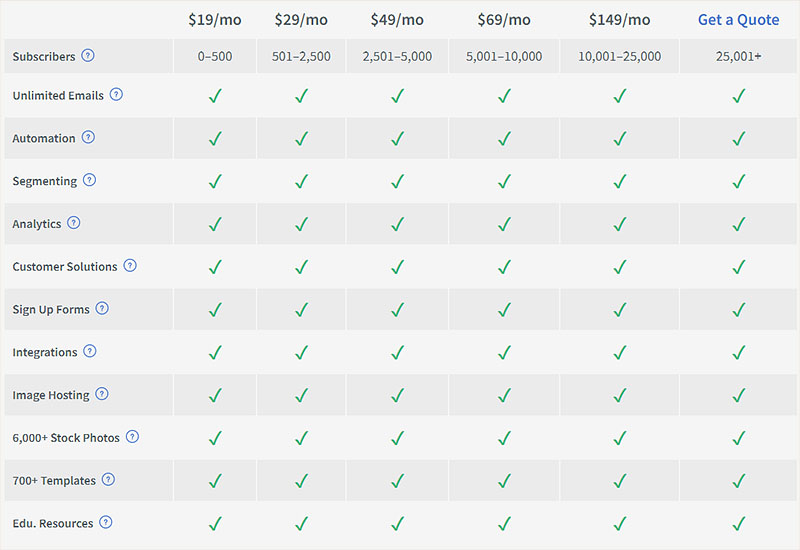 They do have a policy of enforcing double-optins – that's where the service sends a potential subscriber a "click here to confirm you want to join this list" type message. So to get a subscriber, they have to fill out your squeeze page and then click a link in an email they'll be sent.
Needless to say, due to this extra step, subscription rates are lower.
You can disable the double-optin setting for your lists in the Aweber dashboard.
But, even if you do that, and your autoresponder is integrated with a 3rd-party service (like landing page builder software), Aweber will enforce the double-optin option.
You can get this enforcement disabled for your list if you contact Aweber support and give them a good reason.
I've never been turned down when making such a request.
This service has been around almost as long as Aweber.
People who use it claim that the deliverability rates for emails are better than Aweber but, since I don't have an account here, I can't provide an opinion.
It is equally as popular as Aweber, however.
The squeeze pages it can create look better than the ones in Aweber.
The Marketing Automation tool allows you to configure how subscribers are moved between your email lists as they take different actions (buying, not buying, etc).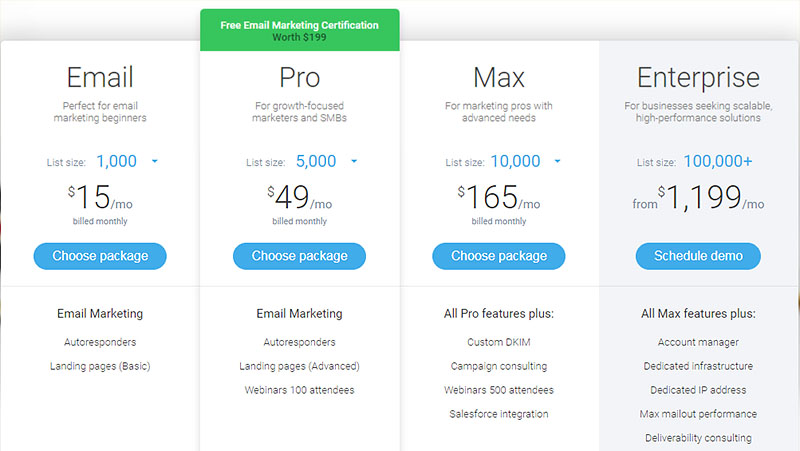 There's also support for integrating webinars into your email campaigns, something Aweber doesn't provide.
GetResponse also don't enforce double-optins the way Aweber do.
For that reason, this service is more popular with internet and affiliate marketers.
If I were starting over, I'd choose GetResponse over Aweber today.
This autoresponder is very popular with internet and affiliate marketers.
It's also very well suited to email marketing beginners. And you can try it out free for 14 days.
If you're planning on moving your lists from another autoresponder service to ConvertKit, they'll handle the entire migration for you for free, providing you have more than 5,000 subscribers.
If you've less than that, they'll show you how to migrate your lists manually.
They're a little more expensive than competing services though.
But they do allow unlimited email sends and customizable optin forms.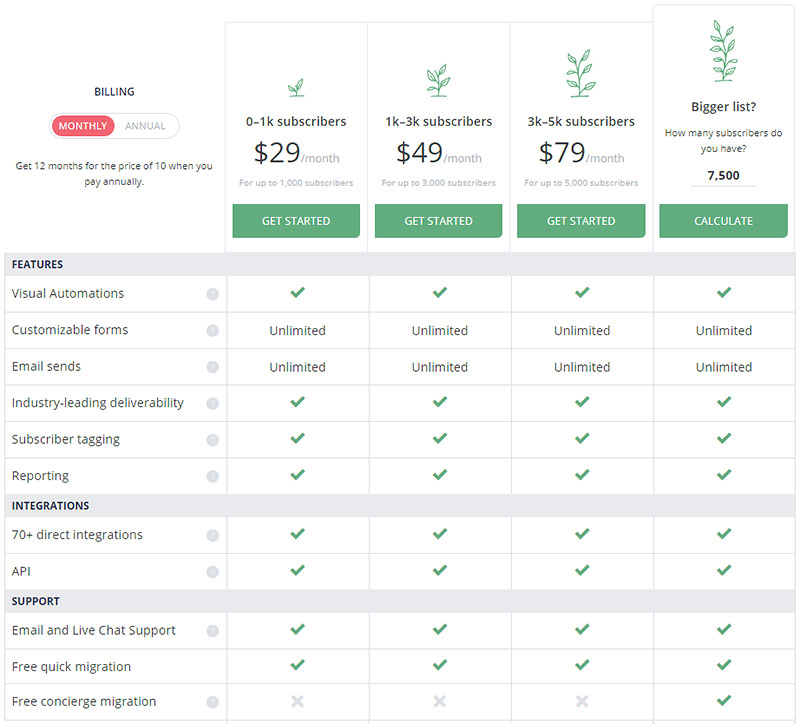 Probably ConvertKit's best feature is the automations you can apply in directing people through your emails, depending on the actions they take or don't take.
Other autoresponders do provide automations but ConvertKit makes visualizing them much easier.
Sendlane is a powerful email platform built by marketers for marketers. It gives you all the tools you need in one place, plus the delivery rates are great.
It lets content creators collect, segment, and automate their customer's journey through email and SMS marketing.
Since it's feature set is so comprehensive, it is one of the more expensive autoresponder services out there: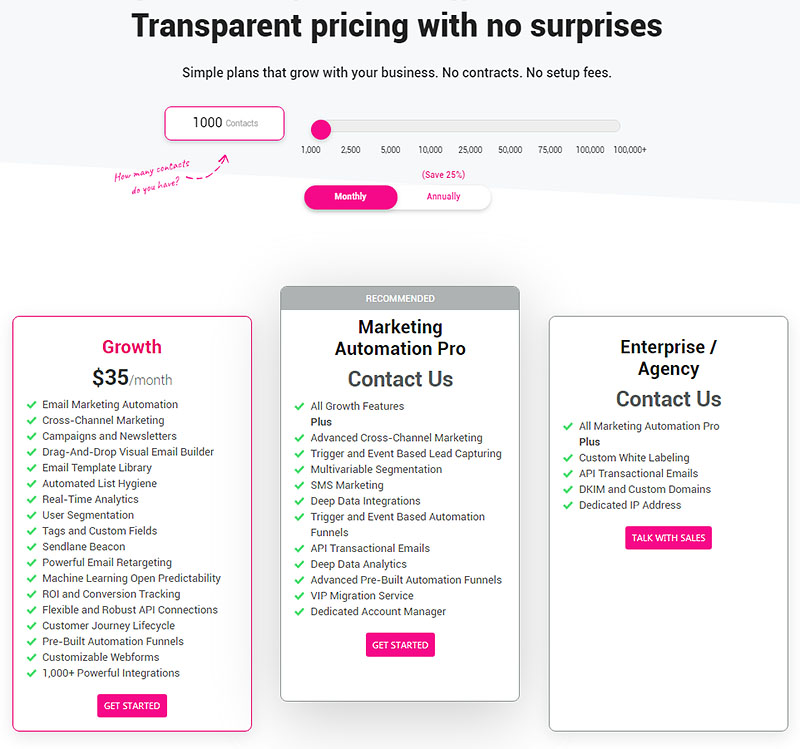 The price in the image is for having up to 1,000 subscribers in your list(s). All prices are on a sliding scale and rise with the number of subscribers in your account.
The Marketing Automation Pro plan only becomes available when you're paying to store and service 5,000 subscribers and costs $150/mth. The Growth plan rises to $99/mth for that number of subscribers too.
Paying annually rather than monthly saves about 20% on fees.
This autoresponder is very popular because it allows you to build a list for free. You can create a list of up to 2,000 subscribers and send up to 12,000 emails per month, totally for free.
Once you get more than 2,000 subscribers, monthly fees start to kick in: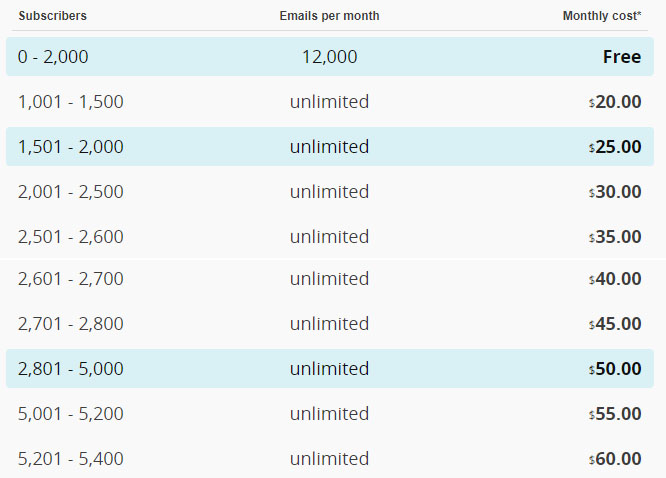 So, as you can see, while MailChimp is a great service to get started with, the price escalates rapidly the more subscribers you have.
Note: MailChimp does not like lists in the internet/affiliate marketing niche. I found this out the hard way when I was building an internet marketing list and MailChimp closed down my list without notice. Others have reported that their internet marketing lists were closed without notice as well. If that's your niche, you're better off going with a different service.
This is a new autoresponder service that doesn't require a monthly fee. You can also try it out free for 14 days with no commitment. I bought the PRO Plan and am currently testing it out.
Many of the established autoresponder services don't allow you to import a list of leads you may have bought elsewhere. Mail Primo doesn't have that restriction. And you can send an unlimited number of emails each month.
These are the pricing options: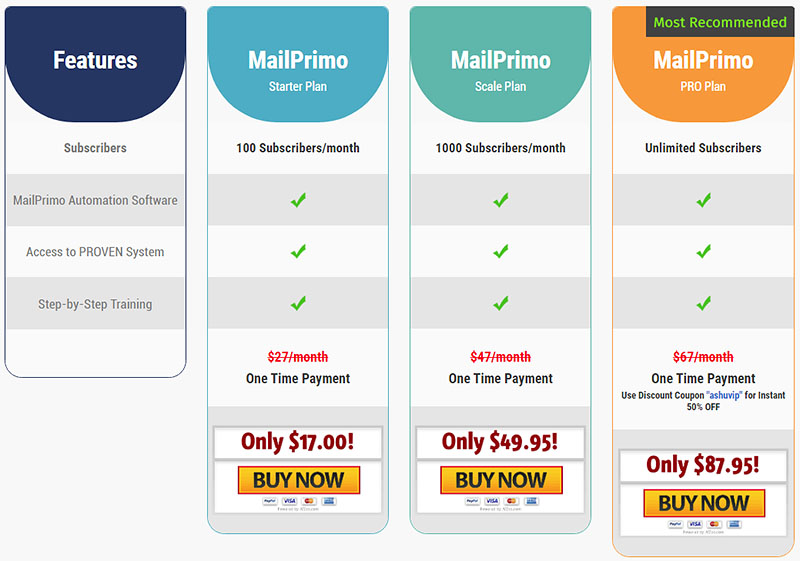 Those are one-time fees, so this makes Mail Primo the most cost effective of the autoresponders listed on this page.
If this one appeals to you, use the coupon code ashuvip at checkout to save 50% on Pro Plan price!
It's $43.97 with the coupon, making it less expensive than the Scale Plan (which the coupon doesn't work with) 🙂
How To Create Squeeze Pages
As I mentioned above, you can create squeeze pages, albeit simple/basic ones, directly in your autoresponder service.
But for extra oomph and a bolder, more attention-grabbing optin page, use a dedicated landing page builder.
These are the more popular tools:

The biggest and the best squeeze page builder does so much more than building simple squeeze pages.
It builds entire sales funnels. You can try it out free for 14-days.
With this tool alone, you can build a profitable online business.
You won't need to pay for web hosting, a webmaster or any of the array of tools and services you normally need to run an online business.
If you're on the basic plan, you will need to pay for your own autoresponder.
Of you're on the more expensive business plan, an autoresponder is included in the tools you get access to.
Building and editing your various pages – squeeze pages, sales pages, upsell/OTO pages, order pages, thank-you pages etc. is a simple exercise with all the back-end techie stuff hidden from you.
It also integrates with Ontraport and Infusionsoft, which don't provide the most customer-friendly order pages, to let you create great-looking order pages yourself.
Clickfunnels® also has its own Order Cart so you don't have to use a third-party payment processor like PayPal, Infusionsoft or Ontraport.
It will even create membership sites for you.
All of this plus all the training to go along with it is provided to you for starting at $97 per month.

LeadPages is more than just a landing page builder. It is the only platform that lets you collect leads from landing pages, pop-up forms, social media, text messaging, and email.
It includes a Facebook Ad builder, a built-in payments system that can be added to any landing page or popup, lets you capture optins via text message on mobile devices and provides 1-Click signup links.
All pages and forms built with it are fully mobile responsive, so important these days.
You can even split test pages and popups to see which ones are getting the best response from your traffic. The squeeze pages they provide, out-of-the-box, have already been extensively tested to convert.
LeadPages is really for established marketers. There are several plans with their new Start Plan coming in at $19/mth. If you'd prefer to pay annually, it will cost $180 per year (equivalent to paying $15 per month – a 21% saving).
There are other plans as well: Standard ($37/mth or $300/yr) and Pro ($79/mth or $576/yr) and Advanced ($321/mth or $2,388/yr). So all plans except the Advanced Plan are less expensive than Clickfunnels®. But Lead Pages is more of a page/site builder than a funnel builder.
There are also significant savings ob plans if you pay annually rather than monthly (40% discount on the Pro and Advanced Plans).
However, take advantage of the LeadPages free trial that lets you test the system out for 14 days.
Then you'll know if this is a service you want to buy or one you want to aspire to in the future.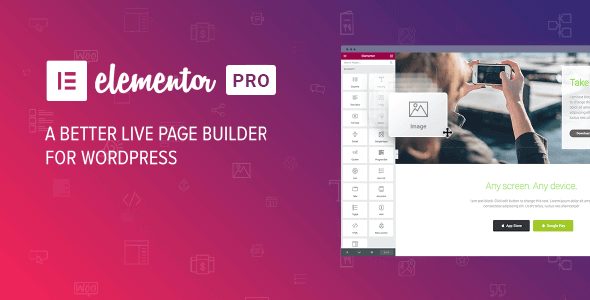 There is a free version of this WordPress plugin with a cut-down feature set that lets you build basic landing pages for your offers.
It's a good way to gain experience building pages and 5 free page templates are provided with the plugin.
However, Elementor Pro – the commercial version of the plugin – provides a over 50 widgets you can add to your landing pages (posts, galleries, price tables, countdowns, Facebook widgets and so on).
Elementor also allows you to create popups. They may be annoying, but they do work.
And the Pro plugin also comes with a over 300 page and popup templates.
The plugin has become one of the most popular landing page builder options for WordPress and has over 3 million users.
There are three pricing options: a single site license for $49/year; a 3-site license for $99/year and a 1,000-site licence (for developers and agencies) for $199/year (still a reasonable price).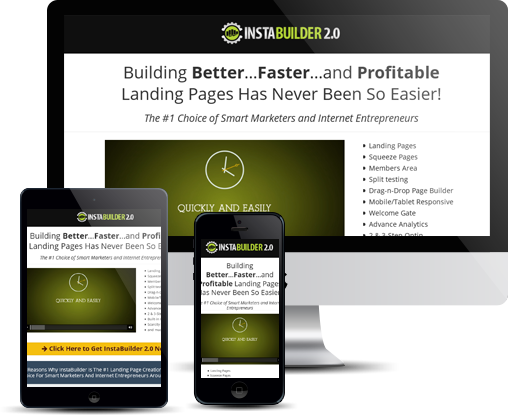 InstaBuilder is a WordPress plugin exclusively designed to create squeeze pages which work on both desktop PCs and mobile devices.
It comes with over 100 pre-designed templates and you can create multi-step optin pages if you need to.
The squeeze page editor is a fully-featured editor in its own right, allowing you full customization of your pages.
Integrating the optin code provided by your autoresponder is a simple copy-and-paste operation.
Background videos are supported too though to have them work, you need to enable the Mute Sound option. That's because the Chrome browser will no longer auto-play videos with sound.
There are 3 options: a 3-site license for $77, an unlimited site option for $97 and a Developer Licence option which allows you to install it on an unlimited number of your own and client sites for $197.
These are a couple of basic squeeze pages created with InstaBuilder:
OptimizePress 3 is the latest edition of this plugin. It has been completely rebuilt to bring it in line with today's online technologies.
OptimizePress is one of the best plugins for creating conversion-optimized landing pages, sales pages, blogs and membership sites. So it's more than just another plugin for building squeeze pages.
It also comes with the SmartTheme theme for WordPress so you can build a blog that not only looks beautiful and is blazing fast, but is designed with conversions in mind.
Create 2-step opt-in forms to help increase conversions on landing pages.
Track which pages are working and optimize your campaigns for success.
The plugin uses drag-and-drop technology to make building pages and forms as easy as possible.
There are over 300 page templates included and all are optimized for mobile as well as desktop.
There's also a huge library of page elements (like price comparison tables, social media boxes, etc) to choose from.
The squeeze pages are built in OptimizePress so if you want to use them you'll need to have the OptimizePress plugin installed on your blog.
There are 3 pricing options:
an Essential license for 1 site for $99/year
a Business license for 5 sites which also has additionals features for $149/year
and the Suite plan for $199/year [normally $249/year] which gives a 20 site license and ALL available features.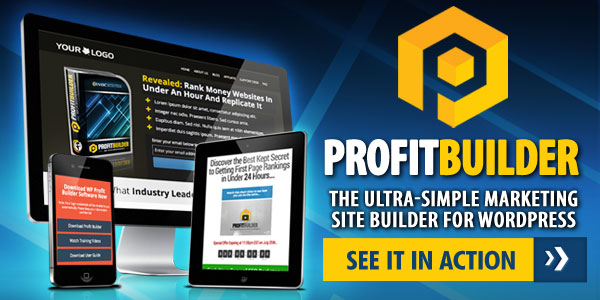 Another plugin for creating squeeze pages and landing pages in WordPress is ProfitBuilder.
This creates professional-quality optin-forms on your blog as well as opt-in overlays (nicer than popups).
It can build a ton of other types of marketing pages like sales pages and funnels, membership sites, social gates, portal pages, etc.
It's one of the most complete, all-in-one, WordPress landing pages plugin for online marketers.
The price ranges from $67 to $147, depending on how many blogs you want to use the plugin on. It is a one-time payment.
The plugin comes with over 130 high-converting templates – you just add your own text and/or images. You can build sales funnels and do split testing too.
If you want a landing page builder that is affordable but does not need WordPress to work, this is one to look at.
This web-based tool (which I reviewed here) makes it incredibly easy to create highly effective and dynamic landing pages that will convert like crazy, because they add all sorts of new features that grab attention and encourage user participation.
Best of all, the web-based interface allows you to dive in and create your own pages with absolutely no design or programming experience whatsoever. If you can use email and sites like Facebook, you can use this software!
It only costs $99 per year and you can create an unlimited number of pages with it.
There's also a 14-day free trial available.
And if you decide to buy through the above link, you get all the bonuses listed on that page as well!
Adding a video background to an opt-in form is as easy as pasting in the video's link. You can use static background images as well.
The software integrates with all the popular autoresponder services.
All your landing pages are hosted for you and when you create a page, you're given a link to it that you can promote.
If you'd prefer to have the page appear like it's on your own domain, you can download a small file which you then upload to your web server.
This was the tool I used for creating my landing pages until I switched to Clickfunnels®®. Here are some squeeze page examples:
Now this isn't strictly a landing page creator. Instead, it puts an attention bar at the top or bottom of the screen on your site. You can advertise offers with (affiliate) links to them, add opt-in forms to collect subscribers or show a video, with an affiliate link for the related product.
If you upgrade to the PRO version, you can place an attention bar over any page on the internet! That's how to build an email list the fast way if you enjoy sharing links on social media.
This web-based software is $99/year and you can create an unlimited number of attention bars with it. Conversion Gorilla comes with additional bonuses if you decide to buy it through the above link. I reviewed it here recently.
You can see it in action too on this very website – a bar alerting you to some free product I'm providing is placed at the top of pages on this website by Conversion Gorilla.
Here are a couple of other examples of this tool in action: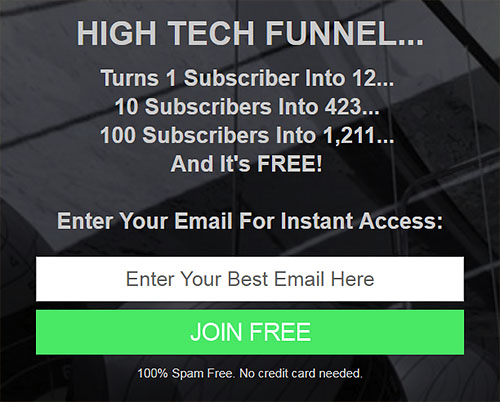 This is a 100% free landing page builder. You can use a pre-built squeeze page to get others to sign up to Dual Squeeze under you, or design your own landing page.
Once someone subscribes on your page, they are redirected to the link of your choice. That can be to a squeeze page for another product or service or an affiliate link where you'll earn commissions from any sales.
There is an optional upgrade for $27 per month which allows you to create unlimited squeeze pages, each linking to a different offer.
Using this system is a great way to kick off your email list building for free.
You can integrate your optin form(s) with Aweber, GetResponse or just use the free list storage option in Dual Squeeze until you're ready to move to a more sophisticated landing page creator and autoresponder.
Where To Find Free Reports To Give Away
If you're looking for free reports and ebooks to give away to entice people to subscribe to your mailing lists, I can recommend Buzzinar (there's a 50% discount on that page).
One of the upsells is for getting 2 PLR reports/ebooks each month.
Each of these PLR (Private Label Rights) products comes with a squeeze page and an email sequence.
Another option is Automated List Profits. This also provides 2 PLR reports each month. Save 57% on fees through this link.
Final Thoughts
List building can seem a formidable task, especially for a newbie.
Today, it's a simple task as the above tools show you how to create squeeze pages the easy way.
There's a tool for every budget.
Using squeeze and landing page software gives you much greater flexibility with the kinds of squeeze and optin pages you can create.
And if you use a tool like Landing Page Monkey, you don't even have to host your landing pages yourself.
People seem to prefer squeeze pages with video backgrounds.
They get a 40% better response rate than pages with a static background. So choose a tool that can create that type of squeeze page.
If you want to put optin popups on your websites, then use one of the WordPress plugins. You don't need animated backgrounds on that type of form.
My recommendation would be to start out with the free Dual Squeeze page. You can always export your leads if you want to at a later date.
Then think about buying one of the landing page builder software apps.
Don't forget that you need an autoresponder service on the other side of your squeeze pages to store your subscriber information and to be able to email your subscribers regularly.
If you'd like to learn from an expert in list building and email marketing, Sarah Staar runs regular webinars on how to get started:

I'd appreciate any feedback you have on how to create squeeze pages and any suggestions for tools you've come across that you think I should include in the above list. Just sound off in the comments…
Free Resources:

GET FREE TRAINING ON LIST BUILDING AND ONLINE BUSINESS...