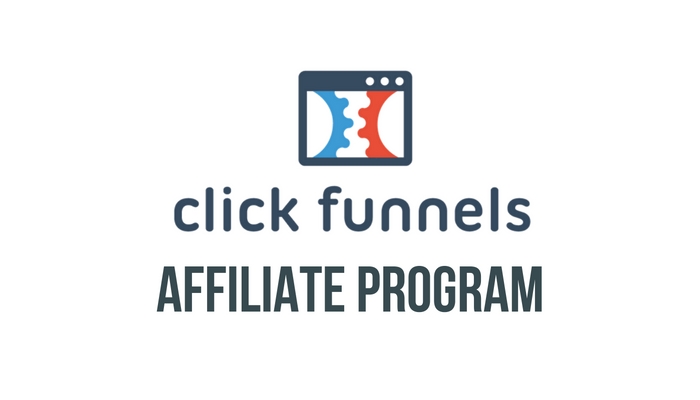 "How Do You Actually Promote Clickfunnels® If There Aren't Any Global Affiliate Links In Your Affiliate Dashboard?"  is a question I was recently asked.
There are actually plenty of links in the Clickfunnels® dashboard that you can use to promote the service and its related products anywhere in the world.
If you're not familiar with Clickfunnels® or its affiliate program, I reviewed the service here and talked about why I became an affiliate in this post.
Affiliate Links
The affiliate dashboard is broken into sections, above each of which is a blue button.
Clicking one of those buttons takes you to a page listing the products in that section that you can promote, along with your affiliate links.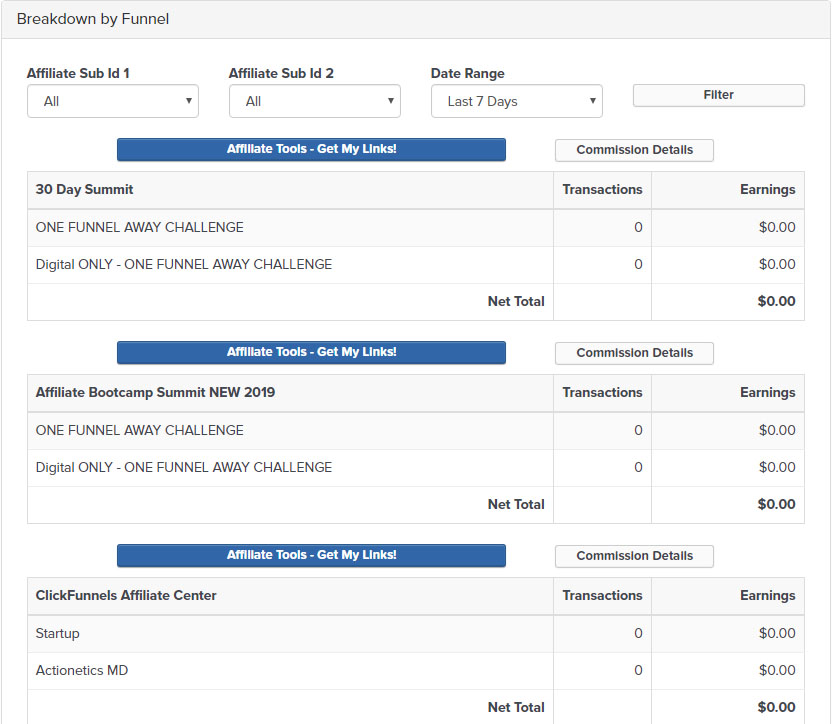 Each product also usually has some emails and images you can use to promote that product.
You're also able to add two sub-ids into your affiliate links for tracking purposes so that you can see where link clicks are coming from.
You'd use each unique affiliate link you create on a different traffic source platform.
So, let's say you want to know how many people are clicking your affiliate links on your blog.
And you also want to know which of those people are clicking affiliate links in your blog content and which are clicking on an ad or link in your blog sidebar.
You could set sub-id1 to be the name of your blog (it's just a string of letters and numbers) and set sub-id2 to something like "content".
Then you'd copy your affiliate link from the dashboard and paste it into your blog content.
Next, you'd create a second affiliate link where sub-id1 is the same (the name of your blog) but you could set sub-id2 to "sidebar".
And then copy and paste that link into your sidebar.
To see your detailed stats information on your affiliate dashboard, click the Commission Details button for the section you want, and you'll be able to download a .CSV file that contains the sub-id info and what products were bought by your customers.
This information isn't displayed directly on the dashboard itself.
In practice, you'd never paste these raw links into your blog.
You'd use a link masking plugin like the free Pretty Links Lite plugin (now called Shortlinks) for WordPress to create more attractive looking links.
Using a plugin like this also makes it easy to swap out links if you need to without having to do a lot of editing.
Another option is to use a link masking service like ClickMagick or Marketer Magic which gives you a lot more tracking options than a simple WordPress plugin.
There's a free link tracking guide here that explains all this.
Your link masking dashboard (whichever tool you use) will tell you how many clicks your in-content and sidebar links are getting and how they are converting.
If one is doing poorly, then you know you need to do something to improve it's visibility and attractiveness to your website visitors.
Promoting Clickfunnels®
Every product that's available to promote in the Clickfunnels® dashboard steers buyers towards the Clickfunnels® service itself.
So pick products to promote that are geared towards your audience.
If you're in the internet marketing, affiliate marketing or make money online niches, then pretty much any of the products can be used to promote Clickfunnels®.
If you're in the health niche, then the free LadyBoss webinar is a good one to start promoting with:
Clickfunnels® is a business service, so it's a tool that any online business could use to capture leads and get more sales.
If you're targeting businesses rather than a specific niche, then focus on promoting the business benefits of Clickfunnels® and point people towards the webinars.
If you've subscribed to Clickfunnels® yourself, don't forget to build some funnels to promote Clickfunnels® and capture leads to start building your own list of email subscribers.
There are always free shared funnels, like this one, you can import into your account to get started.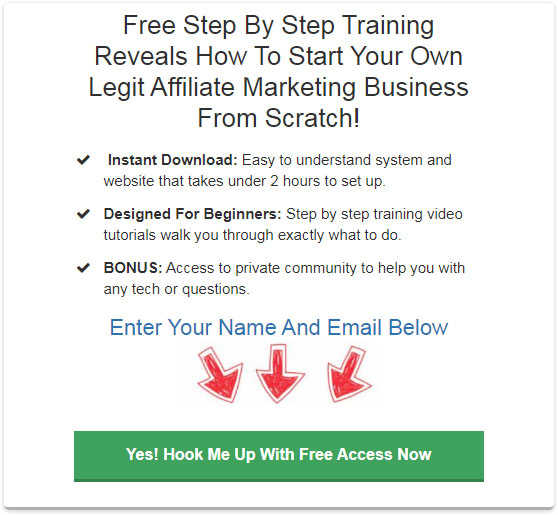 The great thing about Clickfunnels® affiliate links is that they use sticky-cookies.
This means that whenever someone buys a Clickfunnels® product, you'll get the commission.
It doesn't matter how long after they clicked your affiliate link.
Many affiliate programs use cookies that time out after 1 day (Amazon) or 30, 45, 60, 90 or 180 days.
Clickfunnels® affiliate links don't timeout.
There's a fair amount of affiliate competition out there these days so you have to work harder than you used to, to make sales.
You have to be more original in your promotional techniques and it's important to offer a quality bonus package to anyone who subscribes to the Clickfunnels® service, so that they're more likely to sign up through your links rather than someone else's.
If you're new to Affiliate Marketing or haven't been having much success with it, this free course should set you on the right path…

If you've any experience promoting Clickfunnels® yourself, let me know about your successes and failures in the comments below.
Free Resources:

GET FREE TRAINING ON LIST BUILDING AND ONLINE BUSINESS...