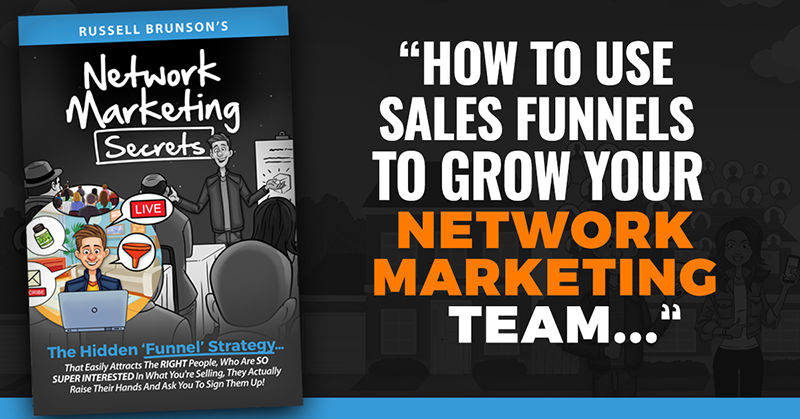 Why Network Marketing?
One of the best ways of building a passive income is to become involved in network marketing.
It's not a new idea. In fact, it pre-dates online marketing by decades. Every heard of Amway or Avon? They had network marketers back in the 60s and 70s.
Network marketing often gets a bad rap because there have been some unscrupulous companies, both offline and on that were nothing more than illegal pyramid schemes which ultimately fleeced their customers.
There have also been quality networking programs in that time, some of which are still around today.
In network marketing, you recruit others to the program you're in and, as a reward, you're given a percentage of their fees – your commission.
Some programs operate a one-level plan where you only earn commissions on direct referrals.
Other programs pay out commissions on multiple levels. So you earn commissions on people signed up to the program by people you directly referred yourself.
Typically, with these multi-level-marketing (MLM) programs, you earn a smaller commission on levels further beneath you.
The problem for many network marketers is that they find it difficult to recruit people and so never make any money.
Network Marketing Secrets And Clickfunnels
I've talked about a company called Clickfunnels® on this blog before.
They provide an online page building service for creating all kinds of marketing pages, sales funnels, webinars and membership sites.
They also happen to run a one-level network marketing program for their affiliates.
The #1 BIGGEST QUESTION that they get asked daily by customers and potential customers is…
"Does Clickfunnels® work for network marketing?"
Followed by the 2nd most common question:
"Which funnel should I use if I'm a network marketer?"
Well, what many people don't know, is that before Russell Brunson launched Clickfunnels®, he was actually:
the #1 distributor in two different companies… at the same time!
He actually won a Ferrari for being the #1 highest producer in one of those companies and he and his wife drove it from Vegas back home to their home in Boise in what might be the longest road trip in a Ferrari of all time.
He helped generate over 1.6 million leads in just 6 weeks for a new company… (and over 200,000 of those leads were directly in his own downline).
And he did all of this without talking to anyone… ever (how many of us really do enjoy doing sales calls?).
How is that possible you may ask…?
Well, it comes down to the power of a few simple sales funnels!
Russell did everything above by using 3 simple funnels that were designed to
generate leads, and then
convert those leads into customers and
then into distributors.
For anyone who says that "you can't use funnels to grow your team online…" Russell would actually tell you that all 3 of the funnels he used are based on things he learned from old-school networkers who built their teams offline.
He just replicated the process online inside of a simple funnel!
Where The New Network Marketing Secrets Book Fits In
Anyway – I tell you this, because Russell just wrote a new book that was created to show network marketers how to use Funnels to grow their teams, and I wanted to give you a chance to get a free copy during their pre-launch this week.
You can get your copy (as well as copies for everyone on your team) here.
This book will show you the hidden funnel strategy that easily attracts the right people, who are so super interested in what you're selling, that they actually raise their hands and ask you to sign them up!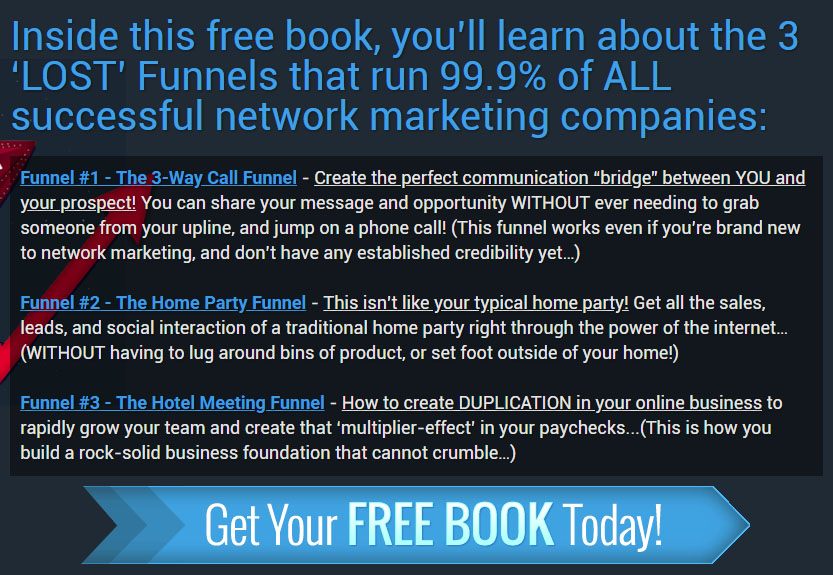 Imagine how different that is to the traditional model of bugging your family, friends and acquaintances! What would it be like to have people coming to you, instead of you going to try to convince them.
You should get a copy for yourself as well as getting everyone on your team to get a copy too.
This book is the playbook for serious network marketers who only want to talk to people who are super interested in their products…
It's the culmination of everything Russell Brunson has learned while building companies as a distributor, becoming a top money earner and co-founding his own highly successful network marketing company…
Inside Network Marketing Secrets you'll learn…
The ONE critical step that network marketers always forget (miss this step and your business will never gain the momentum you need to be a top earner.) [Page 3]
What the sneaky "NFL Club" is…and why nearly every network marketer unknowingly stumbles into it like quicksand within weeks of joining their networking company. [Page 8 ]
How to rise above the 'Clone Wars', and be unique in a sea of 300,000+ marketers who are all taught the exact same marketing strategies with no variation…(your competitors are actually being mass-produced!) [Page 13]
How to instantly duplicate the number of people on your team (again and again)…without having to book out conference rooms, or travel to a single hotel meeting! [Page 23]
Who your two dream clients really are…(and how to leverage their key "hot-points", so you can better sell to them and change their life) [Page 25]
And that's just the first 25 pages!
Find out how to finally generate consistent leads (without hounding friends and family)…
Get a Free Copy of Network Marketing Secrets
UPDATE: Russell's New Traffic Secrets Book
By the way, since I wrote this post Russell has written a new book – Traffic Secrets – which is the third and final one in his "Secrets" trilogy.
It delves into the various ways Russell has driven traffic to his offers and businesses, honed over 15 years or working online.
These strategies are responsible for him being able to take Clickfunnels – which he co-founded – a new company founded in 2014 and make no money, to a company that made over $100,000,000 a year just 3 short years later (and it continues to do so).
You can learn more about the Traffic Secrets book (which is also free like the  other "Secrets" books) and what's in it in this post.
Free Resources:

GET FREE TRAINING ON LIST BUILDING AND ONLINE BUSINESS...