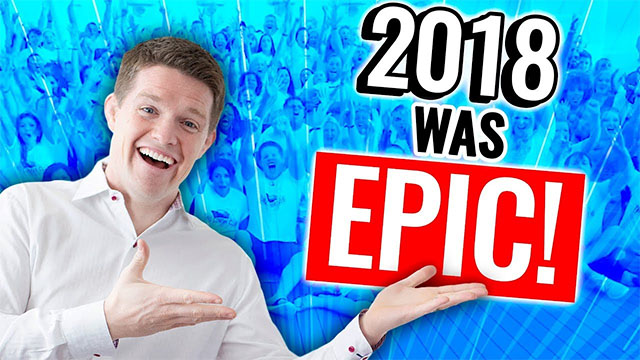 2018 was an amazing year for Clickfunnels®®.
In the episode below of his Funnel Hacker TV webseries, founder Russell Brunson takes you through a 2018 Clickfunnels® review, and he gives his 3 biggest breakthrough revelations in business growth and selling online.
It was a banner year for the company and it wouldn't have been if it weren't for all of the users, the sales funnels they created and the affiliate marketers spreading the word!
As I've already said in a previous post, Clickfunnels® has a fantastic affiliate program. And it's one I'm now heavily invested in myself.
It's how I'm starting to build a sustainable passive income that I can rely on month after month.
If you haven't thought about building your own passive income, then I recommend reading this post.
While you don't need to use Clickfunnels® to promote itself, that is what I've done. With the lowest subscription option, I'm using a Shared Funnel (a funnel created by another user that I'm able to tweak) to promote the service – one that offers free affiliate marketing training.
I think you have a better chance of selling a software service like this to others if you demonstrate that you're using the tool yourself.
So here's Russell talking about how his business did in 2018 (it created nearly 20 millionaires).
Two books are mentioned in passing in the video – Expert Secrets and DotCom Secrets.
They're both worth reading and they'll give you a far better idea of how to market yourself and the pitfalls to avoid.
Remember, these were written by Russell Brunson who's now the highest-paid speaker on marketing in the world.
These are physical, hold-in-your-hand, books and not ebooks. While they're both free, you do need to pay shipping costs ($7.95).
If you're a business owner, you are probably more interested in what Clickfunnels® can do to help your bottom line rather than trying to sell it to others as an affiliate marketer. The One Funnel Away Challenge is what you're looking for.
If you're not already a Clickfunnels® affiliate, you should seriously consider signing up – it's free to join. I'll even throw in some bonuses to sweeten things.
Free Resources:

GET FREE TRAINING ON LIST BUILDING AND ONLINE BUSINESS...