Don't Miss Prince EA, Kathryn Jones, and Jermaine Griggs at FHL 2020!
In case you missed Russell Brunson's recent LIVE announcements, Kathryn Jones, Prince EA, and Jermaine Griggs are ALL speaking at Funnel Hacking Live 2020! How amazing is that?!
Here's everything you need to know to get caught up…
Kathryn Jones – You've heard of funnel hacking… but what about DESIGN hacking?! In her presentation, Kathryn plans to reveal the secret to creating pages that are visually-engineered to CONVERT, while keeping you from missing the under-the-radar step that most FunnelHackers blow right past…
Prince EA – Want to create content that consistently goes VIRAL? Prince EA has you covered… his presentation will focus on teaching you how to find your voice while inspiring the people you're called to serve. He'll share the same secrets he uses to motivate his 20.2 MILLION social media followers!
Jermaine Griggs – Have you ever felt CHAINED to your business? Like you actually created a JOB for yourself… not a company? Jermaine gets it. So his entire presentation is dedicated to teaching you how to achieve TRUE "funnel freedom" (the same kind of freedom that allows him to travel the world with his family!)
PLUS, when you get your FHL 2020 tickets ASAP, you'll ALSO get access to an ever growing stack of insane bonuses!
FHL 2015 Recordings (Value: $697)
FHL 2016 Recordings (Value: $997)
FHL 2017 Recordings (Value: $997)
FHL 2018 Recordings (Value: $997)
FHL 2019 Recordings (Value: $997)
PLUS… the NOTES from 2015,16,17,18, and 19… all 430 pages (Value: $497)
Jermaine Griggs' Bonuses! (If you missed Jermaine's announcement, see it here) (Value: $247)
H.I.P.P.E.R. Sales Scripts and Training (how to sell ANYTHING in the most effective, persuasive way possible!)
Funnel Freedom (how he was able to visit 30 countries with his kids while his funnels were on autopilot paying for everything!)
Katheryn Jones' Bonus! (If you missed Kathryn's announcement, see it here)
"Design Hacking" video deep dive! (how to make your funnels visually-engineered to CONVERT) (Value: $147)
(Total Value: $5,576!)
And they're just getting started! Remember, there are still 9+ speakers left to be revealed… and some of them have let Russell know that they're going to offer EXCLUSIVE bonuses to everyone at FHL.
Get Your Ticket NOW For FHL 2020>>>
How FunnelFlix Can Boost Your Traffic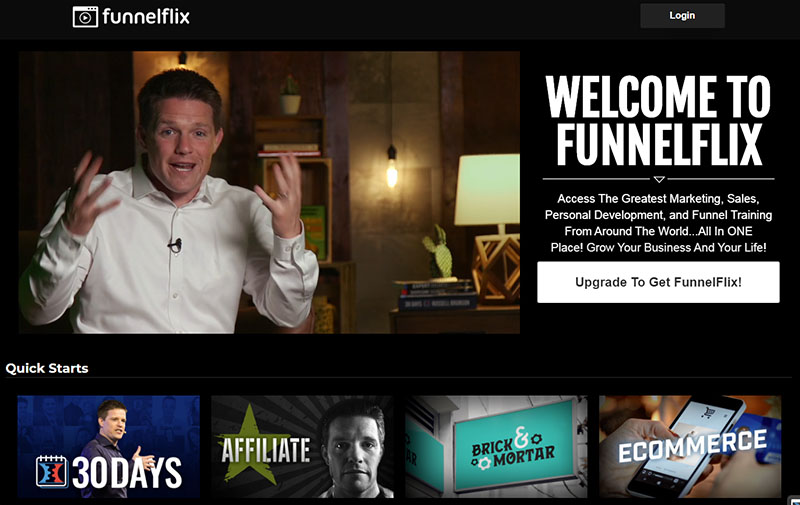 FunnelFlix is the Netflix for funnel building education, but how can it specifically help you boost your traffic?
There are four courses designed specifically to help you increase traffic:
AdSkills: If you're ready to step up your ad agency game, land brag-worthy clients, and become the hunted rather than the hunter, then this training has your name written all over it.
Traffic Secrets: The Mother of All Traffic training is finally here. If you've been looking to master cold traffic, you just struck gold. This high level traffic mastery program has no equal. Targeting? You got it. Scalability? Done. Media Buying? Snap. This is the Ultimate Grand Master's class in all things traffic and conversion.
YouTube Traffic Secrets: Looking to grow your business using the power of YouTube? This YouTube superstar has cracked the code on monetizing the biggest and most popular video platform on earth. Joe shares how you can make money online building your own business, as an affiliate, or in your local market with these quick and simple strategies.
Agora Media Buying: The reigning king of financial newsletter publishing is sharing their secrets on how to do media buys, from soup to nuts. Unlock the secrets of the masters for high converting ads, campaigns, reporting, research, execution, and scaling. If you're looking to dominate your market, this is your secret weapon.
But, the best part of FunnelFlix? You don't have to pay ANYTHING to start watching!
If you're a Clickfunnels® user, you already have access to FunnelFlix, so just log in and start your training! If you're not a Clickfunnels® user yet, you can still get started for $0! All you need to do is start your 14-day Clickfunnels® Trial, and you can access FunnelFlix for FREE during your trial!
Click HERE to Visit FunnelFlix Today>>>
The Truth About Killer Headlines…
In Jim Edwards' new book, Copywriting Secrets, he unveils some killer new secrets about writing great headlines.
As advertising icon David Oligvy once said, "On average, five times as many people read the headlines as read the body copy."
So, what's the trick?
Jim writes, "A great headline targets your ideal audience. You don't want people who aren't in your target audience reading past the headline…"
Are you writing headlines geared for your target audience?
Click HERE To Claim Your FREE Copywriting Secrets Book Today>>>
Here's what one customer had to say about Jim'sbook: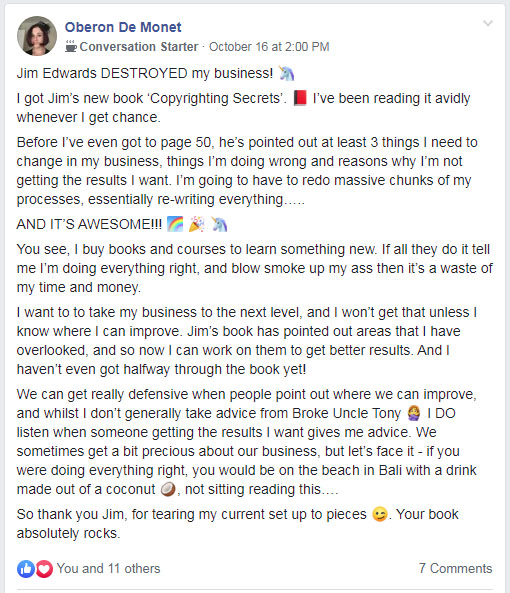 Sometimes, You Need To Create the Path
[An Excerpt from Russell Brunson's Instagram Page]
.
If there is no way… CREATE ONE!
We've all run into this…
When it feels like there's no possible way to do something and we feel defeated and want to give up….
When you're feeling as if there's no possible way, realize that that's an opportunity for you to create one!!
Create the road for you and others to take when something seems impossible.
Show the world that you can do it!!
.
Read the FULL Post Or Comment HERE>>
The Marketing Secrets Show
This show is for entrepreneurs and business owners who want to learn how to market in a way that lets us get our message, our products, and our services, out to the world, and yet still remain profitable!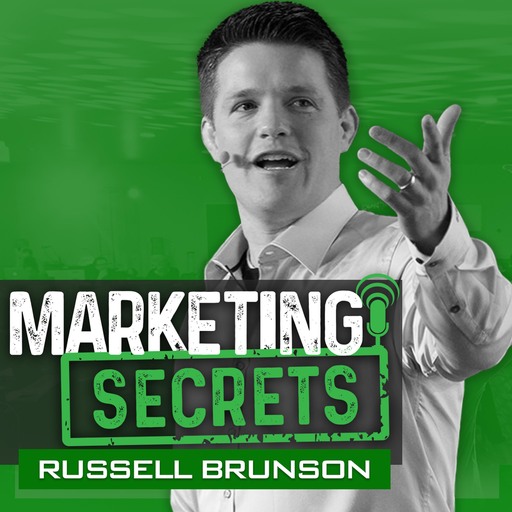 Recent Highlights
Episode #254: 7 Figures in 1 Year (A Proven 12-Month Plan)…
A few years ago, Russell recorded a podcast episode revealing the SIMPLEST way he knew to take a business to 7 figures in just 1 year, and that method still works today.
It isn't a fancy or flashy new strategy. Instead, it's a back-to-basics approach that he's seen proven time and time again. (It worked for him, for success stories like Kaelin Poulin and Liz Benny, and countless others…)
When he recorded this episode, he gave it to ALL of his inner circle members and had them replicate the same system in their business. Learn the simplest way to hit 7 figures and have your best business year yet…
Listen to the FULL Marketing Secrets Podcast episode here >>
Episode #253: A private Voxer chat with Stephen Larsen…
It sometimes seems like Russell is ALWAYS on Level 10 when it comes to energy and excitement. If you've listened to him on podcasts, or FB Live, you know what I mean, but the truth is, he found this week hard, and he was really lacking motivation.
There's a tough project that he's trying to work through, and he didn't want to do what I really needed to do.
So he took a deep breath, and voxed Stephen Larsen. He definitely wasn't planning on anyone hearing this private conversation, because it's pretty raw and super vulnerable for him, but Stephen's response was just too PRICELESS to not share it with you…
Listen to the FULL Marketing Secrets Podcast episode here >>
Also, if you want to learn 99 Marketing Secrets That Will Change Your Business and Your Life, sign up for the Marketing Secrets Blackbook Here: Free Instant Access.
Funnel Hacker TV on YouTube
Subscribe to Funnel Hacker TV on YouTube and get instant access to great videos to help you build your business, pursue your goals, and achieve greatness. Also, make sure you check out the 5-part video series with Tai Lopez HERE.
Step-by-Step Mastermind Plans…
One of the ways success is measured is by the people that surround you. In this Classic YouTube video, Russell shows you how to create a Mastermind Group. These gatherings help entrepreneurs share ideas, enable mentorship, but mostly it allows your tribe to come together…
Here's What Happened This Week On Funnel Hacker Radio…
60 Days of Social Media Content in 8 Hours… On this episode Dave interviews Marley Baird who will be a round-table host at the upcoming Funnel Hacking Live event in January 2020. Marley owns a social media agency that has worked with many 2CCX winning entrepreneurs. She left her job as a dental hygienist to become a social media expert and she provides advice on how social media videos can drive organic traffic forever…
Split Tests in Life & Business… On this episode Dave talks about different split tests you can do regarding your personal health that will help you in your business life as well. Split testing is the process of trying new or different things to help find out what may work better, such as why you want a "break even funnel" and never say "finished" in your funnel…
Other Stuff You Shouldn't Miss!
Need Advice? Use the Funnel Hacker Forum! Check out the top conversations inside the new community…
"Help! I Need Help With My Clickfunnels® Domain!"
User SCP Asked: I'm hoping this is a simple question, but I want to build different funnels that link to one membership area in CF. My question is this: Once a person has gone through my funnel and purchased do I just put a link to the membership site in a button that says "create your account here" on the order confirmation page? Does the membership site need to have the same domain or can I just leave it with the default CF domain?
Kevin Willis Replied: Yes, you can have multiple funnels pointing to a single member area. As for pasting the "create account" link in a button, unless you are restricting access to the paid modules, I wouldn't do that. If you ARE restricting access, then even if someone creates an account they won't see the restricted content so it's less risky. However, to provide a link that will expire after they use it, use the built-in code in the fulfillment email associated with the product you set up. Be sure to set the thank you page to the member area and…
Also, Northstar America Shared: I just recently found out that Clickfunnels® has finally has a forum, and I believe it to be one of the very best features they have added for several reasons… 1) The entire Click Funnels community can converse, learn, teach, and assist one another in a multitude of ways that will help supercharge everyone's success. 2) Click Funnels events will be even more spectacular and amazing because people will bond and grow closer because of the forum. 3) The forum eliminates any excuses for anyone to say they don't have help, when they now have the entire community to draw from and aide them when in need…
If you're not a Clickfunnels® user yet, you can still get started for $0! All you need to do is start your 14-day Clickfunnels® Trial, and you can access FunnelFlix (AND MORE) for FREE during your trial!
New to building sales funnels? Take this 30-day course created and run by Russell Brunson and his team that's been designed to help you get that first funnel up and running (plus my bonus package):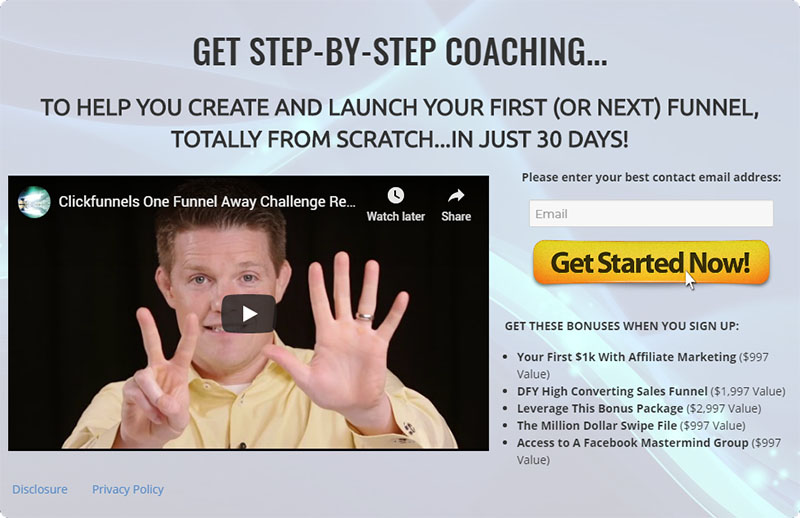 That's it for this week! 🙂
Free Resources:

GET FREE TRAINING ON LIST BUILDING AND ONLINE BUSINESS...